The X Advanced Kit For Weight Loss, Digestive Health, and Comprehensive Wellness!
It's time to expect MORE from your weight loss and MORE from your overall health. For weight loss and total wellness from the inside out, X Advanced delivers the products you need to look and feel your best.*
Our most comprehensive kit is X Advanced. The X Advanced kit provides a multi-solution approach with the weight loss essentials and digestive support products found in the X Plus kit, and the addition of vital vitamins, minerals, and antioxidants to your daily routine.*
Count on getting MORE with products that work, a simple daily schedule, text reminders, and a Nutrition Guide filled with easy and delicious recipes for comprehensive results.*
What Is X Advanced
The X Advanced kit includes a full month's supply of 6 of our most effective weight loss products, designed to work together to deliver real results. We added in Complete Collagen and Complete Probiotic for digestive support. These two powerhouse products work together to improve your digestive health and get more out of your weight loss and nutrition.*
This X Advanced kit builds off the foundational products that are included in our standalone 8-Day Jumpstart. Lose up to 15 lbs. in the first 8 days and keep the momentum to lose even MORE in the weeks that follow.*
A fresh start requires a solid support system to meet your goals. Xyngular is here for you!
What Xyngular Products Are Included In The X Advanced kit?
Take on total body wellness with this comprehensive wellness kit. Included are products for weight loss support in a 30-day supply, products for digestion support to help accelerate your wellness and promote gut health, and 3 additional key products to support comprehensive wellness with vitamins and nutrients essential to your everyday health. Here's what you can expect in your X Advanced kit:
Lean
We've got your morning covered! Lean is slim on calories, gluten-free, and a delicious protein shake to start your day. Get high-quality protein to help maintain fullness longer while also providing vitamins, minerals, and digestive enzymes. Lean will assist in lean muscle growth and faster muscle recovery.*
Xyng
Paired with your mid-morning snack, Xyng is designed to provide a boost of energy. Xyng will help control your appetite and improve your mood!*
Accelerate with Thermolit Blend
Accelerate your lunchtime! Accelerate with Thermolit Blend is our fat-burning supplement that will really make a difference with your weight loss. Accelerate will enhance your body's ability to burn up extra body fat and use it as fuel.*
Trimstix
Keep your progress moving with Trimstix. Designed to curb sugar cravings while supporting healthy blood sugar levels in healthy individuals, Trimstix will help you stay ahead of the afternoon slump by increasing energy and keeping you balanced.*
Resist
Hit those cravings with our Resist chews. Resist chews will help you manage your hunger, help you feel full faster so when you do sit down for that evening meal, you won't find yourself overeating. Resist features our naturally-sourced ingredient, HbG Complex, which actually sends signals to your brain to help you eat less and feel full faster.*
Flush
At the end of your night, but before you hit the pillow, clean your day away with Flush. Flush is designed to sweep toxins from your system that have been collected due to unwise eating habits. Flush will reset your body and improve digestion which in turn will give you improved gut health. This allows your body to properly absorb necessary nutrients and use your body's fuel sources as intended. A healthy digestive system leads to healthy weight loss.*
Digestive Duo Supplements
Tackle your gut health with double the love! This dynamic duo of Probiotics and Collagen will help you strengthen your microbiome and improve nutrient absorption. The Digestion Duo supplement additions work in tandem to improve your overall digestive health, so you get more out of your nutrition and your life!*
Complete Probiotic
Give your body a dose of healthy bacteria before dinner with Complete Probiotic. Complete Probiotic is a simple and delicious way to add critical probiotics to support a healthy gut, supports healthy digestion, fight gas and bloating while also improving your body's ability to absorb nutrients.*
Collagen
After lunch, take Collagen with Trimstix and get your digestive system moving. Complete Collagen not only improves your digestion but will also improve your natural collagen production while providing you with world-class amino acids and digestive enzymes.*
Comprehensive Wellness Supplements
Global Blend
Xyngular Global Blend combines superfruits, primary antioxidant precursors, and herbal adaptogens with two key phytonutrients aloe and xanthones. Experience the power of Global Blend with supported immune health, increased energy, healthy inflammatory responses, neutralized free radicals, and sustained total body health.*
Axion
Axion is a comprehensive multivitamin and multi-nutrient that fills the gaps your diet may be missing.* With essential vitamins, trace minerals, phytonutrients, probiotics, and digestive enzymes, Axion is so much more than a multivitamin! The unique bilayered tablet and proprietary blend ensures essential nutrients are properly absorbed in your gut, benefiting long-term health.*
Advanced Omega
Advanced Omega includes a unique combination of three key Omega-3s—EPA, DHA, and DPA—to go above and beyond the benefits of standard Omega-3 supplements, for optimal support of your brain, heart, and joints.* Now with lemon oil so you can ditch the fishy aftertaste!
The X Advanced kit was built to help combat some of the most common weight loss hurdles you can face during the day.
Each of our 11 supplements is designed and included for a specific job. When taken at the scheduled time, your day will be full of the necessary nutrients and calories to keep your body moving while also providing extra defenses against overeating, sugar cravings, and sluggish energy which can have a negative impact on your weight loss goals.
Follow the X Advanced product timeline, outlined below.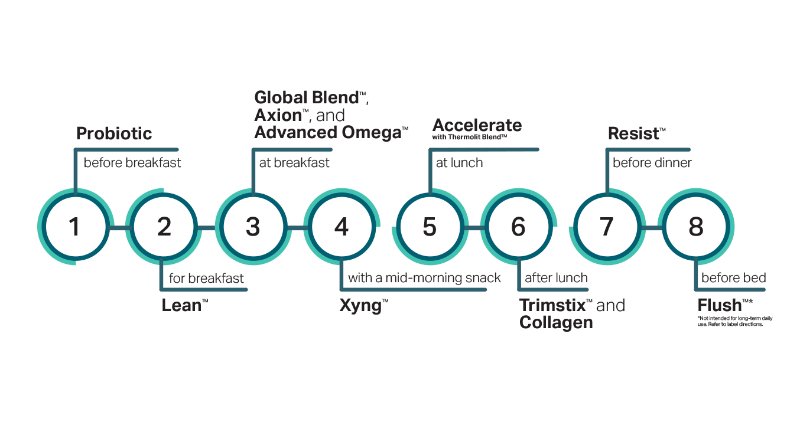 Tips For X Advanced Kit Success and Results
If you have completed the 8-Day Jumpstart and want to keep your momentum going, the X Advanced kit is the perfect option to meet your wellness needs. The X Advanced kit supplements will help you keep those pounds off, but there's more to success than just the supplements.
Xyngular offers a wonderful online community that can give advice, relate to any struggles, give you tips to overcome, and cheer you on during this weight loss journey. A few extra measures you can take to ensure success with the X Bundle weight plan is to:
Stick to the X Advanced Schedule
Pre-plan meals with Xyngular recipes
Keep a progress journal
Contact your coach or find a friend that can help you and hold you accountable
If you're ready to continue your weight loss, we are here to help. Xyngular and our community are your cheerleaders and we can't wait for you to succeed!
X Advanced: More Than Just Weight Loss
Try X Advanced today! It's more than just weight loss, it is your road map to a healthier and happier future. Expect more. Get more.
Log into your Xyngular account or reach out to your Xyngular Sponsor if you do not have an account, to get started. It's always a good time to get on board with Xyngular. Let our products go to work for you!
*Individual results may vary based on personal variables and adherence to the program/product use. Typical results are 1-2 lbs. lost per week.
*These statements have not been evaluated by the Food and Drug Administration. These products are not intended to diagnose, treat, cure, or prevent any disease.
More On Weight Loss From Xygnular…
Quick Weight Loss Tips That Help Keep It Off