When it comes to losing weight the healthy way, Xyngular knows its stuff. With proven proprietary supplements and an incredible system of support and guidance, you're sure to stay on track with whatever health goals you've set. But we have to admit, even we have our favorite tools and products.
And, with a little help from others just like you, we've learned that we're definitely on the same page. Because everyone loves Xyngular Lean.
It should really come as no surprise if you know anything about this high quality, nutrition-loaded protein shake. But if you don't, let us introduce you—say "hello" to Xyngular Lean!
What Does Xyngular's Lean Do?
Xyngular Lean is our low-calorie, gluten-free protein shake that has worked wonders for weight loss. But it's not just your basic protein shake that'll help you shed the pounds—though it certainly does that, too.*
Using two different types of high-quality protein, whey and soy, Xyngular Lean helps maintain fullness longer than traditional protein drinks. Combined with a range of vitamins, minerals, and digestive enzymes, Lean ensures a significant increase in the body's ability to use that protein for greater lean muscle growth and faster recovery.*
Lean also provides a steady stream of amino acids to the body. Amino acids are involved in almost every function of the body including growth and development, healing, digestion, and energy creation, making their presence in the weight loss shake you choose a no-brainer.*
Pro-tip: choose Xyngular Lean.
Lean also provides a super easy and quick on-the-go solution to healthy snacking for the modern busy bee. The simple shake-it-up-and-drink formula makes it an awesome way to diet on the move or just get the quick afternoon pick-me-up we all sometimes need—all for less than 100 calories per scoop.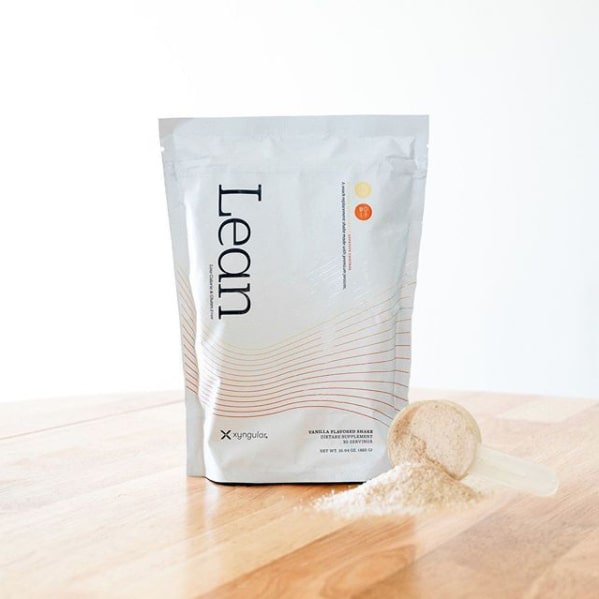 How Many Calories Are In A Xyngular Lean Shake?
One scoop of Xyngular Lean has just 50-70 calories, depending on which flavor you opt for. Lean comes in both Vanilla and Chocolate (with occasional and exclusive releases of new seasonal flavors!) to ensure there is something for everyone in their favorite appetite-controlling, cravings-curbing, weight loss-inducing, Lean shake. Sticking with Vanilla and Chocolate Lean also opens up a world of possibilities when it comes to creative and delicious weight loss shake recipes (did someone say pumpkin pie??).*
Aside from being low-calorie and so YUM, Xyngular Lean also provides an incredible 10 grams of protein per scoop—that's more usable protein per calorie than any other protein shake out there. Period. Lean is there to keep you fuller longer while providing a wide range of vitamins and minerals as well!
Does that sound different than other protein shakes out there? Yeah, we thought so, too...
How Is Lean Different From Other Protein Drinks?
What vitamins and minerals will you find in Lean? So glad you asked. Xyngular Lean is packed with Vitamins A, B6, B12, C, D, E, and K. But it also hits you with a healthy dose of folate (awesome for red blood cell formation and healthy cell growth and development) and selenium (a powerful antioxidant that plays a crucial role in thyroid function), all nine essential amino acids (the building blocks of the body!), plus our proprietary blend of digestive enzymes found in pineapple and papaya to ensure every ingredient is being absorbed well and can actually perform its proper function in your body.* Whew!
What we're getting at is that Xyngular Lean isn't just a basic belly-filler. Weight loss and wellness are about more than just downing a low-calorie diet drink and hoping for the best. They're about looking at the big picture and ensuring you've got the right resources working for you and your body.
Reach out to your distributor and make Xyngular Lean a part of your weight loss meal plan and we have no doubt you'll see the incredible difference it can make for you!
Lean Vs Lean Meal: What's The Difference?
While Xyngular Lean is an incredibly high-level protein shake and provides all the benefits we've already discussed, Lean Meal takes things one step further as a full-on meal replacement shake. That means that Lean is a great snack replacement that'll give you a serious boost of protein and help you crush common cravings that could lead to unwanted weight gain. Lean will even provide necessary vitamins and minerals with the digestive enzymes that'll ensure those nutrients are absorbed as best as possible!*
But Lean Meal is the next step in making shakes work for your weight loss. As a true meal replacement, Lean Meal is designed with overall nutritional support in mind. So, it's there to provide what you'd miss out on if you'd had the time and resources to bust out a very well-balanced meal. Lean Meal is packed with a full serving of fruits and greens on top of fiber and protein. Plus it comes with a range of adaptogens and probiotics to reduce stressors and work toward optimal gut health. With Lean Meal you're gaining more than just lean muscle support and healthy weight loss—you're getting a delicious, on-the-go shake that works for overall wellness in women and men.*
How Do I Use Xyngular Lean?
Xyngular Lean is an incredible solo artist but also plays really well with others. What we mean is, if you're looking for a great-tasting shake to help you lose some weight and supplement your existing health regimen—awesome! Get some Lean on subscription and enjoy your nutritious weight-loss shake any time of day to reap the rewards it offers.
But Lean also comes as part of all the bigger Xyngular systems—Trim Down Trio, Core, Ignite, and Ultimate. Lean plays an integral role in each of them as a protein-filled snack replacement that is key to appetite management and weight loss success, working alongside the other products and supplements offered in each effective system.*
Did you know that you can even add Xyngular Lean to other delicious meals like pancakes?
It really is a versatile, here-for-you, powerhouse of a protein shake. In fact, I think I'll go make one now.
Xyngular 8-Day Jumpstart: High-Quality Weight Loss + Healthy Weight Loss
While Lean has a lot of different uses, any time you switch up your eating habits, especially when you decrease your calorie intake from what you're used to, your built-in habits can kick in and cause you to feel hungry, even when your body doesn't actually need food. Enter the Xyngular 8-Day Jumpstart and the Xyngular Lean shake. The 8-Day Jumpstart, which comes with Xyngular Chocolate Lean, will help you transition from whatever your current diet is, to a new, healthier eating plan.
Many people use diet shakes to lose weight. While it's possible to lose weight with shakes alone, we've taken things a few steps further for a more comprehensive weight loss system. The 8-Day Jumpstart includes a variety of products to help you cleanse your system, reset your habits and your body, and get the help you need. The great thing about Lean is that it plays an important part in this whole system. As we mentioned earlier, Lean contains a proprietary blend of digestive enzymes. When you use digestive enzymes weight loss is enhanced because your body is able to better absorb the nutrients it needs. The better the fuel you give your body, the more efficiently it functions.*
How Much Weight Can You Lose On The Xyngular 8-Day Jumpstart?
In just eight days, you can lose up to 15 pounds with the Xyngular 8-Day Jumpstart. Even after the eight days, you'll continue to lose 1-2 pounds or more every week. While everyone's body is different, and individual results may vary, the combination of fast weight loss shakes included with other proven Xyngular products, a meal plan, and a supportive community will help you reach any goals you set.
How Does Xyngular 8-Day Jumpstart Really Work?
The 8-Day Jumpstart does more for you than any shakes for weight loss ever could on their own. Rather than starting with the products in mind, the 8-Day Jumpstart uses a targeted meal plan that is enhanced by six proven products and a community support system. You'll flush your system and reset your body to give it the proper blank slate it needs for your weight loss program. The combination of products, a meal plan, and community support, and creating new habits are what makes it really work.*
Have you ever started a new diet and then quickly gave up because results were slow to come? When you're putting in the effort, you want to see results—and quickly. But, when it comes to your health, those results usually take time. It's more of a slow and steady marathon as opposed to a sprint. We want you to be able to experience great results right off the bat while preparing your body for the journey ahead.
Not only will the 8-Day Jumpstart start you off right, but you'll gain some important tools that will help you as you continue working on your weight loss goals. Tools like meal plans that teach you what to eat and how much, will be invaluable as you continue. Plus, you'll gain an extra measure of confidence when you quickly see that weight loss is attainable.
Lean Chocolate: Our Favorite Shake To Lose Weight
By now you're probably asking yourself, "Does Lean shake work?" It does, and here's why. Typical fat loss shakes don't provide vitamins, minerals, digestive enzymes, amino acids, and antioxidants. Many are also meant to be a meal replacement. Lean is designed to be taken between meals. It provides an extra boost of protein, which helps build lean muscle, keeps you feeling full longer, and helps curb cravings.*
So whether you're drinking a Lean shake on its own, or using it as part of the 8-Day Jumpstart, or one of the other Xyngular programs, you'll get more than a delicious chocolate shake. You'll get an extra boost to help you reach your weight loss goals.
Get the Xyngular 8-Day Jumpstart, or add Xyngular Lean to your current weight loss program to accelerate your healthy weight loss today!