What To Look For In Meal Replacement Shakes
Stop for a moment if you've ever asked yourself one of these questions: Meal replacement or protein shake? Am I trying to lose weight or build lean muscle? How do you know? In this meal replacement shake guide, we explore all the questions and concerns when it comes to knowing how you are going to supplement nutrition into your new healthy lifestyle:
Which meal replacement shakes are best?
Can I really lose weight with shakes?
How does Xyngualr fit into all of this?
Are there recipes I can use to keep my taste buds entertained with protein and meal replacement shakes?
Starting on a weight loss journey is overwhelming and for some...new territory. Let Xyngular help you. We've provided a handy, detailed guide into what makes meal replacement shakes such an effective tool when it comes to weight loss. You're going to want to bookmark this page in your browser or make it your favorite because we're going to keep updating this guide as we find new interesting tidbits and recipes on healthy weight loss.
Best Meal Replacement Shakes
There are so many meal replacement shakes out there that it can be hard to know which ones are best. Which ones are best for actually losing weight? Which ones help with weight loss but also offer complete nutrition? Which ones taste great? Are they even good for you? In our best replacement shakes for women guide, we address some of the myths and common misconceptions when it comes to meal replacement shakes: what are the best shakes for weight loss, are meal replacement shakes bad for you, meal replacement shake features, benefits, and more. To learn more about the best replacement shakes for women, click here.
The Weight Loss Shake Debate: Can You Really Lose Weight With Shakes?
Believe it or not, this is quite a hot topic in health and wellness circles. Weight loss shakes are often used as a meal replacement in order to achieve weight loss goals. While sometimes controversial, specially designed meal replacement shakes can absolutely be an effective and safe way to lose weight and maintain a healthy lifestyle. And unquestionably, one of the first areas people tend to target is stubborn belly fat.
We explore a lot of the questions surrounding this topic: How can I lose tummy fat fast? Are meal replacement shakes good for weight loss? Is there a difference between protein shakes and meal replacement shakes? And can you really lose weight with shakes? If any of these questions have ever crossed your mind, uncover what we've found when it comes to the weight loss shake debate.
The Power Of Lean Meal: Xyngular's Meal Replacement Shake
When you are in the process of revamping your lifestyle, you need quick and easy solutions. Sometimes you need a quick snack or meal replacement that saves you time, while still meeting all your nutritional needs. Lean Meal can be a simple, effective solution for providing your body optimal nutrition, even on the busiest days. Losing weight can be challenging, especially when you live a busy lifestyle and are pressed for time. You need a simple, healthy solution that will help you achieve your weight loss goals. A meal replacement shake can benefit your health by providing all the nutritional support you need for weight loss. Meal replacement shakes, such as Lean Meal, provide a quick and effective solution for achieving your weight loss goals while providing your body with a wide range of nutrients. Click here to discover all the features, benefits, and how Lean Meal fits your lifestyle.
Weight Loss Shakes For Women
Trying to lose weight can be more than just a battle against unwanted pounds. It's often an emotional and stressful rollercoaster that can leave you feeling frustrated, confused, and with a big fat sense of FOMO (fear of missing out on all the yummy things your diet has you restricted from)! The nice thing about the right weight-loss shake is that it can take away a good portion of the stress and worry, AND leave you feeling satisfied and successful in your weight loss journey. Wondering if meal replacement shakes are good for weight loss? What are the best shakes to lose weight? Can you simply just drink protein shakes and lose weight?
Did you know getting enough protein in your diet is a good way to boost metabolism which can help jumpstart your weight loss goal? Did you also know that most protein shakes lack a global look at the body's nutritional needs? Protein shakes are simply not as effective as weight loss shakes for women for losing weight. We drill down on all the details exploring all the features and benefits of the best weight loss shakes for women.
Everything You Need To Know About Lean Chocolate
Living a healthy lifestyle is tricky when you're always on the go. You need simple solutions that really work, and can fit into your busy lifestyle. And it can be even harder when you feel like you're missing out on those treats that you enjoy. When you find yourself without time to stop and enjoy a healthy meal, or need a quick pick-me-up treat, you need to have a quick, easy, and delicious alternative to keep you on track. That's where Lean Chocolate comes in! Lean Chocolate is crafted to provide you with quality nutrition and real-life-ready convenience. All with a rich, creamy chocolate flavor that tastes too good to be good for you! We break down the ins and outs of Lean Chocolate and how this unique Xyngular product compares and contrasts with Lean and Lean Meal. Find out what makes Lean Chocolate one of our favorite Xyngular shakes.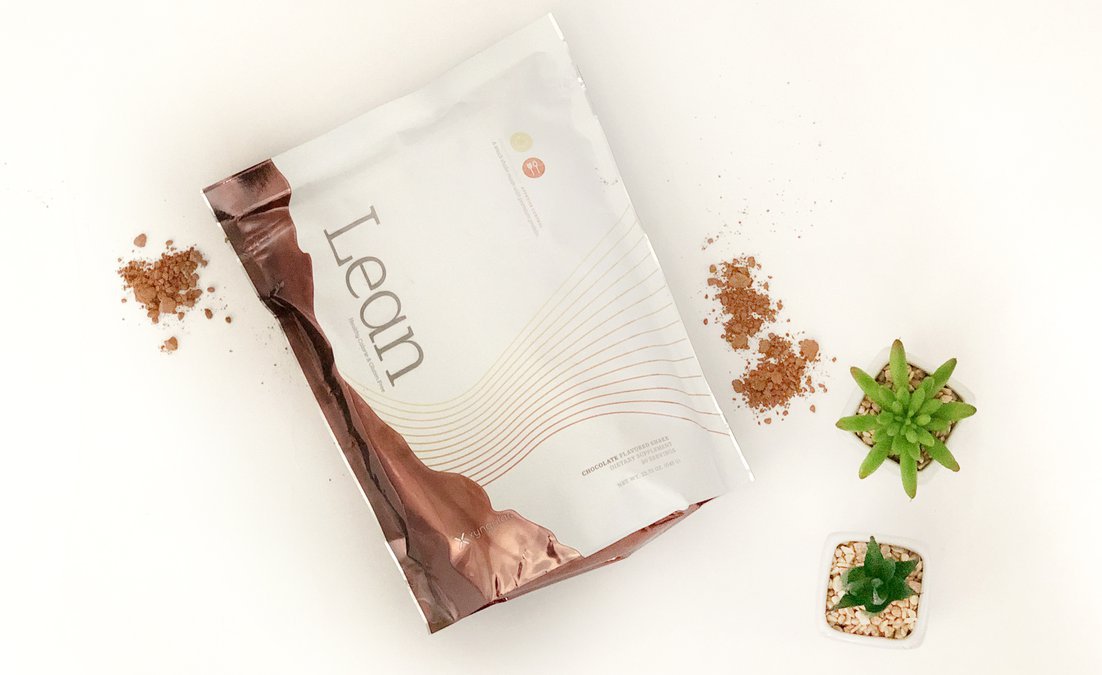 Meal Replacement vs Protein Shakes: What's the Difference?
Meal replacement and protein shakes are often commingled and confused with each other. While protein shakes can occasionally serve as a meal or snack replacement, they differ in that they are specifically formulated for athletic performance and gaining muscle. They often lack the nutrients found in a full meal replacement shake and are therefore not suited as part of a healthy and long-term weight loss plan. The best way to remember the difference is to remember the purpose of each. Meal replacement shakes are for weight loss maintenance. Protein shakes are about performance and lean muscle. Below is a comprehensive reference when trying to understand the difference between meal replacement shakes and protein shakes.
Meal Replacement Shakes
These are meant to serve as a "meal replacement" thus the name. They replace the nutritional value you would get with a regular meal with one caveat: lower the total calories you normally get with a full meal. Yes, they have protein. Yes, they have other nutrients and often those nutrients are used for weight loss and healthy weight maintenance. If you are on a program or a system for weight loss, it's not unlikely that you are probably required to have one or two meal replacement shakes every day. What makes meal replacement shakes so effective is you can get the necessary nutrition your body requires without all the added sugars and carbs you normally would get with a normal meal. Meal replacement shakes also have fortified vitamins and minerals. This is the unique advantage of meal replacement shakes. This is why they can be very effective for weight loss.
Protein Shakes
On the other end, we have protein shakes. They are much different in purpose and nutritional makeup compared to meal replacement shakes. First, the primary ingredient is protein. They typically contain an increase in whey protein, soy protein, or a combination of both. Typically, most protein shakes have a few minerals added, but a considerable amount of protein shakes on the market have very little in terms of nutritional value. Protein shakes usually have less sugar than meal replacement shakes; however, check the labels because some protein shakes will pack on the sugars to offset the bland taste accompanied by the influx of protein. Most individuals use protein drinks as a pre-workout or post-workout supplement with the goal to build and repair lean muscle.
How To Incorporate Lean Meal And Lean Into Your Diet
Life is busy. When you are committed to living a healthy lifestyle, but you are always on the go, you need simple solutions that can help you stay on track. When you don't have time to stop and cook a nutritious meal you need a convenient alternative. Xyngular's Lean and Lean Meal are both designed to provide optimal nutrition and convenience for your healthy lifestyle. If you don't have time to cook, these simple solutions can ensure you are still benefiting from optimal nutrition.
Maintaining a varied diet full of a wide array of nutrients is an important aspect of a healthy lifestyle. A well-balanced diet helps provide you with stable energy, supports a healthy immune system, and contributes to a healthy weight. Consuming the right mixture of protein, carbs, and fats can help you live a healthy lifestyle as well as ensure that all your nutritional needs are met. We show you how to incorporate healthy nutrition from Lean Meal and Lean into your diet and busy lifestyle.*
Lean Meal: A Superior Blend Meal Replacement + Premium Nutrition
Lean Meal is a power-packed meal replacement shake designed to give you the nutritional support needed to reach and maintain your healthy weight loss goals. Need a full serving of fruits and greens, proteins, adaptogens, and probiotics? Lean Meal's premium blend of nutrient-dense ingredients provides complete nutrition to aid in building and maintaining lean muscle, supporting gut health, and maintaining a healthy weight.*
Lean: Lean Muscle + Appetite Control
Lean on high-quality nutrition to reduce cravings. Improve your weight-loss results with Lean, a low-calorie, gluten-free protein shake with a diverse blend of amino acids, vitamins, minerals, and digestive enzymes. Not only does Lean provide 10 grams of protein to fight hunger, but the amino acid profile aids in lean muscle development and muscle recovery. With naturally-sourced digestive enzymes from pineapples and papayas, you can ensure you're receiving all the benefits of included vitamins and minerals.*
7 Recipes To Leverage the Nutritional Benefits Of Lean
Lean Blueberry Banana Smoothie Recipe
This is a simple twist on a smoothie classic. Just throw all the ingredients in a blender and blend until smooth. Don't be afraid to omit the honey and replace the psyllium seed husks with chia seeds. We also like to throw in a half serving of spinach to boost our zinc intake.
1/2 of a large frozen banana
1 scoop of lean
1/2 tablespoon of flaxseed oil
1/4 cup of frozen blueberries
1/2 tablespoon of honey
1 teaspoon of psyllium seed husks
8 ounces of water
Lean Peach Almond Milk Smoothie Recipe
Anything peach is a summertime classic. And if you don't have fresh peaches, you can use frozen peaches to get a similar flavor and benefits. Peaches are one of the best fruits to add to a smoothie because their flavor pairs so well with other popular smoothie ingredients. The recipe below is a solid blend of nutritious ingredients to support your healthy lifestyle.
1 cup of almond milk
1 scoop lean
1 cup of frozen, unsweetened peaches
2 teaspoons of flaxseed oil
Directions: Blend all ingredients until smooth. To get more details on this flavorful and nutritious smoothie, check out the full peach lean recipe page.
Peanut Butter Lean Shake Recipe
For breakfast, lunch, dinner, or a simple quick snack, this peanut butter lean shake recipe is delicious and convenient. Add a scoop of Xyngular's Lean and you've just doubled up the fun to make this nutritious as well.
1 cup almond milk
1 scoop Lean
1 tsp. cinnamon
2 tbsp. peanut butter
Ice
Directions: Blend all ingredients until smooth. If you don't have almond milk, you can easily replace it with soy milk, skim milk, or coconut milk. Want this shake thicker? Simply add a banana. Don't be afraid to experiment with other additions and variations either!
Xyngular Lean Green Smoothie Recipe
When it comes to smoothies and nutrition, green is good. There's just something attractive and satisfying about chugging down a green smoothie. It makes you feel good. Makes you feel accomplished in a way. This green smoothie version is no different.
2/3 cup unsweetened vanilla almond milk
2 large handfuls (50 g) kale - the leaves of about 8 stalks
1/3 cup (80 g) pineapple chunks
1/2 (50 g) ripe avocado
1 scoop Lean
1 cup ice cubes
Directions: Blend all ingredients until smooth. If you're not too keen on the flavor and texture of kale, try substituting spinach on a one to one ratio.
Peach Pie Smoothie
Do you like peaches? Do you like pie? Do you like smoothies? If so, then do yourself a favor and try this Peach Pie smoothie recipe.
1 scoop Lean Peach
8 oz. Almond milk (unsweetened)
1/2 C Frozen peaches
½ C Greek yogurt (vanilla)
Pinch of Ginger
Pinch of Cinnamon
Ice cubes
Directions: Add all ingredients to a blender, cover, and blend until smooth. Garnish with an extra sprinkle of cinnamon.
Blackberry-Peach Smoothie
Cholesterol-free. Fat-free. Sodium-free. What's not to like about blackberries? Oh yeah...they taste amazing too! Did you know that only one cup provides 50% of your daily recommended vitamin C intake? They're also considered a low-carb fruit. Blackberries also have phytochemicals that can protect your body from the damage of free radicals. Pair blackberries and peaches together and you have one incredibly healthy and delicious smoothie.
1 scoop Lean Peach
8 oz. Almond milk (unsweetened)
1/2 C fresh or frozen blackberries
1/2 C Greek yogurt (vanilla)
1 T Chia seeds
Ice cubes
Directions: Add all ingredients to the blender, covering and blending until smooth, adding ice cubes to reach desired consistency if necessary.
Low-Carb Lean Peach Waffles
When you are trying the low carb diet, flour is a no-go. In this tasty twist on waffles, simply replace regular flour with Lean Peach (or one of our other Lean flavors) for a gluten-free waffle recipe loaded with waffle-flavor and without the waffle carbs.
1/2 C Lean Peach
1 Egg
3 T Sour cream
1 t Baking powder
Pinch of salt
Directions: Mix the Lean Peach, egg, sour cream, baking powder, and salt in a medium bowl until fully combined. Prepare a waffle iron with cooking spray, and pour batter into the waffle iron, cooking according to directions.
All the details for each of these recipes can be found in our Lean Peach recipe page. And don't worry if you don't have Lean Peach either. Lean Vanilla and Lean Chocolate are the perfect replacements for each of these Lean recipes.
Lean Meal and Lean are absolute favorites when it comes to meal replacement and high-quality nutrition. You're sure to love the ease and benefits of using them as an integral part of your healthy weight loss journey! Contact your Xyngular Distributor or login to your Xyngular account and stock up on Lean Meal and Lean today!*
*These statements have not been evaluated by the Food and Drug Administration. This product is not intended to diagnose, treat, cure or prevent any disease.