When people say, "You can't outrun your fork," what they really mean is that nutrition is just as important—if not more so—in your weight loss journey as exercise is. But sometimes we try to disprove that saying. We think if we exercise enough, we can eat whatever we want. Sadly, that's just not true. Even the most intense workout routine, when coupled with a poor diet, won't yield the results you want.
The foods you eat play a crucial role in your weight loss or maintenance efforts. Everyone understands the basics: fruits and veggies=GOOD; cupcakes and candy=BAD. But it's the finer details that usually elude us. Which foods are the best for weight loss? When should I be eating? How much should I be eating? Am I getting proper nutrients? These are the types of questions that trip people up when they're trying to lose weight.
So let's start with some basics about the best foods for weight loss. While all whole foods provide essential vitamins and nutrients to nourish your body, some are particularly beneficial in helping you achieve your weight loss goals. Incorporating the following satiating foods into your diet will help you lose weight while still providing your body with optimal nutrition.
WEIGHT LOSS FOODS TO EAT NOW
Eggs
It seems the 80s gave both eggs and permed bangs a bad reputation. While the jury is still out on the bangs, scientists have found that eggs are actually a fantastic addition to your diet if slimming weight loss is your goal. They have plenty of nutrients, including lutein, which is especially beneficial for your eyes. But most importantly, eggs are packed with several grams of protein and healthy fat, which means they help you feel full longer.
Healthline reported on the weight loss benefits of eggs saying, "Egg breakfasts have also been shown to cause up to 65% greater weight loss, over 8 weeks." In fact, several studies show those who eat eggs for breakfast end up consuming fewer calories during the day compared to those who ate other breakfast foods with the same number of calories.
Salmon
Like eggs, salmon is also packed with protein and healthy fats. The omega-3s found in eggs and salmon are good for your brain, heart, and nervous system. Salmon is a lean protein, which means it helps maintain muscle mass, and the more muscle you have, the more calories your body burns. It's also a good source of iodine, which is necessary for thyroid health.
Chicken Breast
Chicken is another lean protein to add to your weight loss strategy. In addition to maintaining muscle mass, protein keeps you feeling full. Because it's a lean protein, you get the benefits without unnecessary calories.
Avocados
Avocados aren't just delicious, they're good for your health, too. They are loaded with fiber, which helps improve digestion and also helps you feel full. Avocados are a good source of monounsaturated fats (those are the good kind), which can help to reduce cholesterol levels, as well as help prevent heart attacks and strokes.
Nuts
Nuts are another often-overlooked food that can help with weight loss. Eating a small handful of nuts increases satiety, which leads to consuming fewer calories over the course of a day. They are also packed with vital nutrients, making them a smart addition to any healthy diet. But not all nuts are created equal. If you're looking to lose weight, try reaching for walnuts, pistachios, almonds, cashews, or Brazil nuts as they're are your best bets. And skip the extra salt and opt for them in as natural a state as possible.
Vegetables
Vegetables are another smart choice if you are striving to lose weight. Cruciferous vegetables like broccoli, brussel sprouts, kale, etc. are packed with fiber, so they help you feel full and aid in digestion. They are typically low in calories, so you can eat a larger quantity without gaining weight. Finally, vegetables also contain a wide variety of necessary vitamins and nutrients, making them a cornerstone of any well-balanced diet.
CHOOSE THE RIGHT FOODS FOR SUCCESS
Incorporating these six healthy foods into your everyday diet will help you achieve your health and wellness goals. But now that we've talked about choosing the right foods, the big question now is: how do you work them into your diet? Don't worry, we've got you covered there too.
OUR FAVORITE XYNGULAR RECIPES
Learning to cook healthier meals can be overwhelming. We get it. It's hard to know what to cook, how to cook it, and keep variety in your menu. That's why we've put together some simple recipes to help you get started. Here are a few of our favorites:
Egg and Avocado Toast:
This simple weight loss recipe is packed with protein, fiber, and flavor. You can even prepare it in a hurry and enjoy it on the go.
Chicken with Green Beans and Almonds:
Classics stick around for a reason—they're tried and true. This easy-to-prepare chicken with green beans dish combines classic flavors with some fresh herbs and spices for a new extra twist.
Avocado Chicken Salad:
When a quick and easy lunch is in order, this dish should be your new go-to. It only takes 20 minutes from start to finish, but your taste buds will rejoice as if it took hours. This avocado chicken salad recipe is one of the best!
Moroccan Spiced Salmon with Sautéed Kale:
There's no sense in eating the same fish and veggie dinner every night. This spiced salmon dinner is low on calories and high in protein and flavor.
Xyngular Meal Plans
If you're someone who would rather not have to think about what to eat and when to eat it, then the Xyngular meal plans will be your saving grace. The meal plans are included with the purchase of any Xyngular Kits (more on those below). Each one walks you through what to eat, how much to eat, and when to eat it. Basically, the only thing they won't do is chew and swallow for you.
XYNGULAR KITS
The Xyngular weight loss kits are plug-and-play ways to lose weight. Simply follow the directions, take the supplements, eat the foods outlined, and watch as the number on the scale drops. There are several kits to choose from, and each one will have you seeing results in just 30 days. Pick the one that's best for you.
X Bundle™: This bundle includes a month's supply of our most effective weight loss products to carry you past your 8-Day Jumpstart. If you can lose up to 15 pounds in eight days with our Jumpstart, imagine your results in 30 days!* Create a lifetime of healthy habits through our easy-to-follow nutrition guide, delicious recipes, daily products, and more. ​The X Bundle gives you everything you need to confidently lose weight and focus on becoming your best and healthiest self.*
X Plus™: If you're looking for something to jumpstart your weight loss, X Plus is the kit for you. X Plus includes everything found in the X Bundle and adds digestion support for faster results and a healthier you from the inside out! Get more from your weight-loss products and nutrition by supporting your digestion—an essential part of losing weight effectively and improving your overall health.* With the X Plus kit, you have everything you need to start looking your best and feeling your best.
X Advanced™: This kit includes all of the best products Xyngular has to offer. It is Xyngular's most effective kit to lose the most weight while addressing ALL 15 of the common causes of weight loss failure. With the X Advanced kit, you receive everything included with X Plus—the X Bundle kit, digestive support supplements, and delicious meal plans. The added bonus is you also receive Complete Collagen™ for joint wellness and Complete Probiotic™ for digestive health, ensuring your weight loss needs are being met. No more slipping backward, no more gaps in your diet plan.*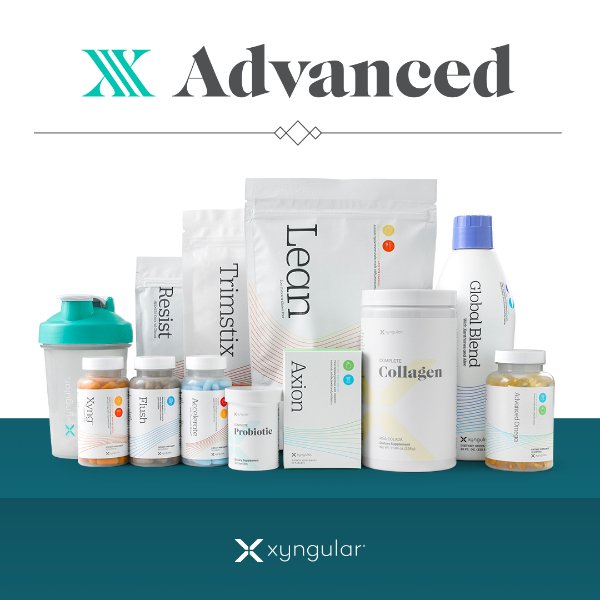 As you incorporate these six foods into your diet and focus on better nutrition overall, you'll see more success in your weight loss journey.
Are you ready for a change? Get a Xyngular Kit to transform your body and transform your life to become the ultimate you! Contact your Xyngular Distributor or log in to your Xyngular account and get X Plus today!
*These statements have not been evaluated by the Food and Drug Administration. This product is not intended to diagnose, treat, cure or prevent any disease.
**Xyngular kits include a variation of the 8-Day Jumpstart. If you have additional weight to lose after your Jumpstart and select a Xyngular kit to support your efforts, DO NOT complete another 8-Day Jumpstart immediately. Instead, move to the post-Jumpstart meal plan of your choice and recommended product usage included in your kit.
*Individual results may vary based on personal variables and adherence to the program/product use. Typical results are 1-2 lbs. lost per week.