This sweet potato kale curry recipe is a vegetarian favorite that can serve as a main dish or a complimentary side dish to your favorite lean protein!
This recipe is a fantastic dish that is both packed with flavor and offers a healthy meal option when you've finished up your 8-Day Jumpstart. This is a meal that's firmly parked in the "post 8-Day Jumpstart" lane since the ingredient list includes sweet potatoes, so if you're looking for meals that are compliant with the 8-Day Jumpstart program we've got a whole library for you! Including our fan-favorite, Beanless Beef Chili.
If you're ready for a healthy vegetarian meal that comes together quickly and tastes absolutely delicious, you'll love our sweet potato kale curry recipe. Spoiler alert: it reheats marvelously if you're looking for a great lunch or meal prep option.
Sweet Potato Kale Curry Recipe
Serves 2
Per Serving—
Calories: 230 Fat: 3g Protein: 7g Carbs: 46g
Vegan, Gluten-Free
Ingredients
1½ teaspoon avocado oil
1 teaspoon cumin seeds
1 ¼ cup onion, finely chopped
1 cup tomato, finely chopped
2 teaspoons fresh ginger, grated
1⅓ teaspoon fresh garlic, grated
½ teaspoon turmeric powder
¾ teaspoon chili powder
1½ teaspoon coriander powder
½ teaspoon garam masala
½ cup unsweetened coconut milk
2½ cups water
1 cup sweet potato, diced
3 cups kale
¼ teaspoon kosher salt
Instructions:
Heat oil in a stockpot. Once hot, add cumin seeds. Cook for three minutes and add onions.
Turn heat to low and stir until onions are brown and caramelized.
Add grated ginger and garlic and cook for two minutes.
Add tomato and cook for five minutes.
Turn heat to low, add the turmeric, chili, and coriander, and fry on low heat for three minutes, constantly stirring.
Add one cup of water, increase heat back to medium, and let the spices boil in the water.
Cook until most of the water is absorbed, and add sweet potato, kale and salt, and stir for three minutes. Add the remaining water, cover, and let it cook for thirteen minutes or until the sweet potatoes are cooked.
Add coconut milk and garam masala (optional) to the stockpot and let sit for five more minutes.
Take off heat and serve immediately.
What Are The Health Benefits of Sweet Potatoes?
There are many health benefits associated with sweet potatoes. They are a rich source of fiber and antioxidants. They also contain iron, calcium, selenium, and are a good source of vitamin C, vitamin A, and vitamin E, which helps to improve both hair and skin. Sweet potatoes are also known for promoting a healthy brain and gut system, as well as managing stress levels and helping to manage diabetes. They also contain a significant amount of vitamins that are known for being anti-inflammatories. Sweet potatoes are also known for improving vision and boosting fertility!
How Long Will Sweet Potatoes Last?
Raw sweet potatoes will last on the counter for between one to two weeks. If you have a pantry or a cool, dark area to store sweet potatoes, they will last up to a month. You can maximize the life of the potato by storing them in a basket or loose bag allowing for air circulation. If there are no sprouts, it's still fresh! If the sweet potatoes have been cooked, they can last for three to five days in an airtight container. Raw sweet potatoes do not freeze well, but cooked sweet potatoes can be stored in airtight containers or freezer bags for up to six months.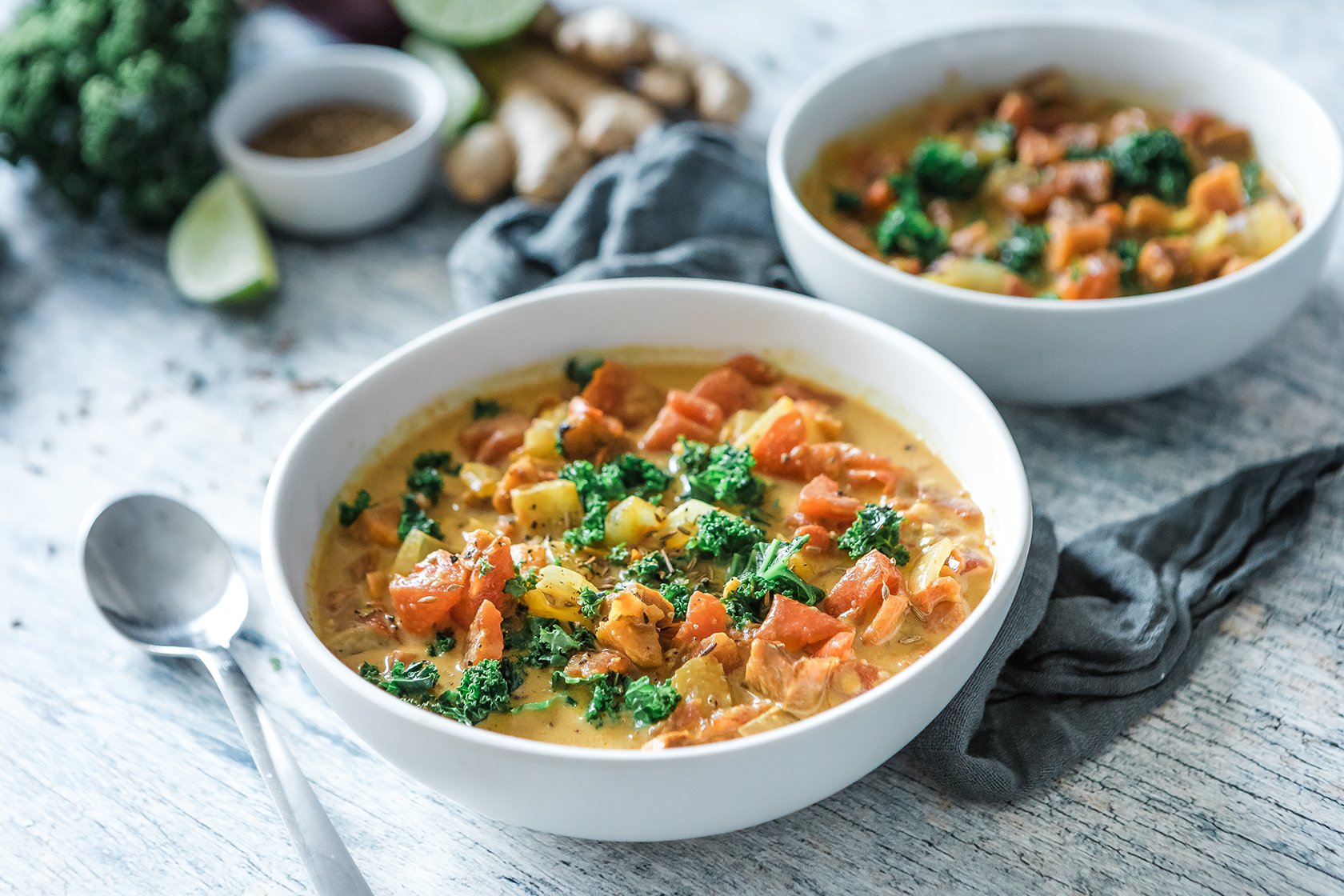 What Are The Health Benefits of Kale?
How Does Kale Help Your Body?
Kale has endless health benefits. Considered to be a nutrition superstar, kale contains copper, manganese, potassium, calcium, iron, as well as vitamins A, K, B6, and C. A cup of kale has seven grams of carbs and only 33 calories and is considered to be weight friendly and diabetes friendly food. Kale also contains antioxidants that help to eliminate unwanted toxins that result naturally within the body.
TRY THIS: Chicken Veggie Stir Fry
Secrets to Cooking With Curry...
A successful low carb curry is created through a combination of generous spicing mixed with onions, ginger, and garlic. Be patient while you slow-cook your curry. Cooking it slowly allows the flavors to fully develop for a rich and satisfying flavor.
And if you're looking for more great tasting meals, you'll want to check out these other 8-Day Jumpstart Recipes. Each one is designed to accompany the Xyngular 8-Day Jumpstart program, which prepares your body to lose weight fast. For more information on the 8-Day Jumpstart, and other Xyngular systems, contact your Xyngular distributor, or call our Member Service team at 1-801-756-8808. Or, if you have a Xyngular account, you can log in to place your order. *
*Lose up to 15 pounds in 8 days. Lose an additional 1-2 pounds or more each week following the 8-day jump start. Results are not guaranteed and can vary.