Whether or not you've pulled the trigger on your own 8-Day Jumpstart yet, there is a lot to get excited about. Just think—one small but mighty box contains most of the magic (okay, it's actually very carefully studied and executed science) you need to lose up to 15 pounds in just 8 days!* Plus you'll feel more refreshed and energized, have fewer cravings, and be well on your way to a happier, healthier you at the end of it.
So what should you expect when unboxing your very own 8-Day Jumpstart? We've got a few awesome Distributors here with their own unboxings to show us just what you have to look forward to.
What To Expect When Unboxing Your 8-Day Jumpstart
Honestly, you should expect nothing less than the Xyngular best when unboxing your own 8-Day Jumpstart. Because when we set out to change a life into a healthier, more vibrant one, we're focused on the important stuff—products we know work and help get you the results you need to stay motivated on your wellness journey. But we don't overlook the most basic things like packaging and coaching either!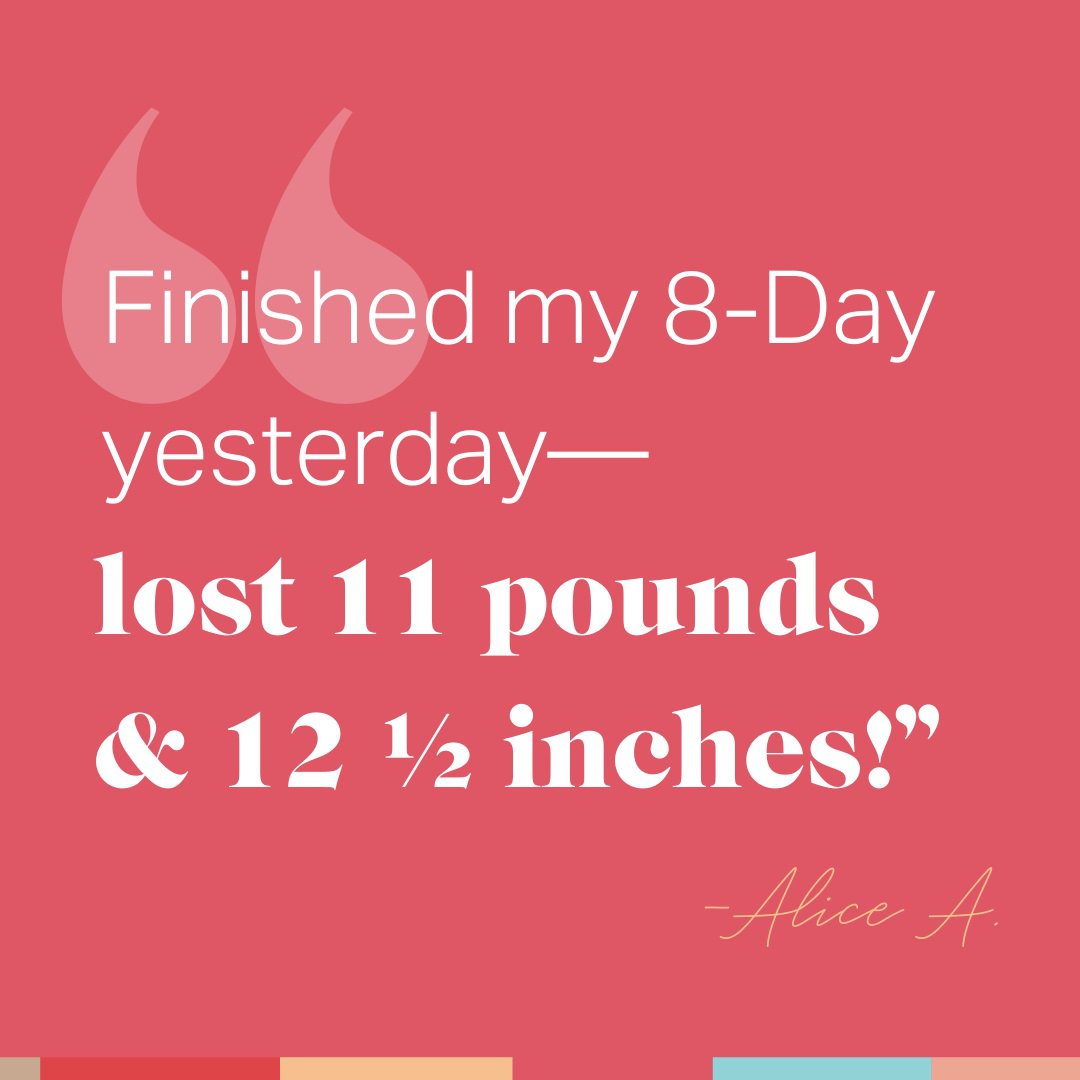 When you first open your 8-Day box, we hope the first thing you feel is a sense of empowering calm. Yes, we're here to set you up for success with powerful products and supplements that we know will produce results, but we don't want you to feel intimidated by the process or like it's us doing all the work! We see YOU and are completely impressed by YOUR efforts and YOUR decision to become a better YOU. We're just grateful you chose us to help you along the way.
Now, about those pound-shedding, cravings-crushing, energizing products…
WATCH CHRISTINA UNBOX THE 8-DAY JUMPSTART
Wondering what our distributors have to say about unboxing the 8-Day Jumpstart?
Everything Included In The 8-Day Jumpstart Box
Every product included in the 8-Day Jumpstart box has been carefully selected to form an unbeatable team of wellness powerhouses. From first thing in the morning and all through the night, these products are designed to work for you to render impressive results and help you feel stronger, more energized, and more successful each day!*
Lean Chocolate
Lean Chocolate is a 70-calorie, gluten-free protein shake created with a diverse blend of amino acids, vitamins, minerals, and digestive enzymes to ensure proper nutrition and excellent absorption. It's a versatile powdered drink that can be made in countless different ways and flavor combinations, making it something to look forward to each morning! Lean provides an impressive 10 grams of usable protein and a full amino acid profile in each serving scoop to aid in lean muscle development and muscle recovery.*
Xyng
Xyng is the power of sunshine in a little capsule. Its invigorating blend of herbs and vitamins boosts and sustains energy levels for hours. With powerful ingredients designed to improve mood and control your appetite, you'll achieve your weight loss goals while feeling brighter, lighter, and all-around better!*
Accelerate with Thermolit Blend™
With its proprietary Thermolit blend™, Accelerate helps you burn fat three times faster than any other thermogenic competition on the market. It resets your fat-burning potential while helping control your appetite, which makes it the perfect midday boost during your 8-Day Jumpstart. Plus, Accelerate is vegan and caffeine-free, which also sets it apart from other fat burners out there.*
Trimstix
Our Fruit Punch Trimstix is a number one subscription Xyngular product for good reason. Not only is it a delicious and convenient 10-calorie vegan drink mix, but it's designed to support healthy blood sugar levels, curb sugar cravings, and increase energy levels and cognitive function while working toward healthy weight loss. And without the customary crash that accompanies other energy drinks, Trimstix leaves you feeling refreshed and awake, long after drinking it.*
Resist
Resist offers quick appetite control in the form of a deliciously soft, wild cherry-flavored chew. Thanks to its HbG Complex, just one chew suppresses hunger and helps you feel full faster, which is why it's great to take before dinner so you don't overindulge right before bedtime. Resist is super effective for quick and healthy weight loss because it helps you consume fewer calories and actually suppresses the hunger hormone, ghrelin, signaling to your brain that your body is full enough.*
Flush
Taking our gentle cleanse, Flush, before bed resets your body by helping with detoxification and digestion, while improving nutrient absorption all night long. Flush reinforces the body's natural defense system and promotes improved gut health, supporting an overall sense of wellness while you complete your 8-Day Jumpstart.*
WATCH Madi and Logan UNBOX THE 8-DAY JUMPSTART
Wondering what our distributors have to say about unboxing the 8-Day Jumpstart?
How Are 8-Day Jumpstart Products Packaged?
Each Xyngular 8-Day Jumpstart product is packaged with the utmost convenience and ease in mind. Losing weight and feeling better is something we're here to help with, which means we don't want to overcomplicate things or overwhelm you before you've even had a chance to start!
When you open the 8-Day Jumpstart box, the first thing you'll probably notice is the super easy schedule you'll want to follow every day with each of the Jumpstart products for the best results. But on top of that, make sure you scan the QR code in the top right corner of the box top with your smartphone camera to get access to incredible coaching support, Xyngular Jumpstart recipes, and community cheerleading—all of which are important parts of experiencing success during your 8-Day Jumpstart.
Next, you'll see that each of the six Xyngular Jumpstart products is perfectly tucked away in its own part of the box so you can easily grab and go while staying perfectly organized during the entire 8-day process. That said, Xyng, Accelerate, Flush, and Trimstix are all packaged according to dosage so don't be afraid to grab a few of the packets to stuff in your gym bag, purse, or car if you know you'll be on the go!
Lean does come in an 8-dose tub and the Resist has its own baggie, but don't hesitate to snag a couple of individually-wrapped chews and keep them in your most crave-inducing locations (office desk at 3 pm might get you every time—until Resist, that is!), just in case.
Xyngular's 8-Day Jumpstart Is About More Than Quick Weight Loss
Xyngular's Ultimate Guide to the 8-Day Jumpstart reminds us of something super important: this 8-day program is about far more than just quick weight loss. With the 8-Day Jumpstart, you'll certainly see stunning results and feel better each day, but it is a program truly designed to set the stage for a future—hopefully, a lifetime—of healthy habits and more opportunities for growth and development.
The 8-Day Jumpstart is a comprehensive and synergistic system designed to help you reset and restart. Each product works together to support the next, giving you a solid foundation of nutritious and cutting-edge ways to increase health and reveal tangible results.
But it's not all about the products either. The 8-Day Jumpstart also provides a well-rounded system of support including sample meal plans, an 8-Day-approved foods list, deliciously compliant recipes, and the entire Xyngular community to cheer you on throughout the process.
And then there's YOU. The one who is making it all happen. The one who logged in, clicked on the 8-Day Jumpstart, and made the choice to change for the better. YOU are where the magic truly lies.
And we can't wait to see where you take yourself next.
Log in to your Xyngular account today and purchase your own 8-Day Jumpstart to create an even more magical YOU!
*These statements have not been evaluated by the Food and Drug Administration. These products are not intended to diagnose, treat, cure, or prevent any disease.
*Lose up to 15 pounds in 8 days. Lose an additional 1-2 pounds or more each week following the 8-day jump start. Results are not guaranteed and can vary.