It doesn't matter where you are—cravings always seem to strike at the worst possible times! And now with summer in full swing, replete with barbecues, birthday parties, poolside snacking, and constant travels...treats are unavoidably on your radar.
Up until now, you've relied on delicious wild cherry Resist to fight cravings, but now we're adding a summer exclusive appetite control weapon to your arsenal. Say hello to our brand new crush—Xyngular Resist Watermelon! Just throw a few in your purse or car for perfectly portable, deliciously fruity, hunger-crushing appetite control on the go!*
Xyngular Resist Watermelon Ingredients And Their Benefits
Whether you're dealing with actual hunger or the many hunger "false alarms" we experience so often, no one likes to feel like they don't have control over what they're eating. But with the appetite-suppressing power of Xyngular Resist Watermelon, we're putting you back in the driver's seat and back in charge of what and how much you consume!*
Xyngular Resist Watermelon offers the same quick appetite control you're used to in the form of a naturally sweetened, deliciously soft, individually wrapped chew—making it super easy to snack on right before a meal or anytime you feel like overcoming cravings, up to four times a day! And thanks to Resist's HbG Complex, just one chew suppresses hunger and helps you feel full faster—all in a delicious new flavor you can savor. Summer hunger doesn't stand a chance!*
New Resist Watermelon is super effective for quick and healthy weight loss because it helps you consume fewer calories and actually suppresses the hunger hormone, ghrelin, signaling to your brain that your body is full enough...even without the chips, dips, desserts, and drinks, you'll be faced with this summer and beyond.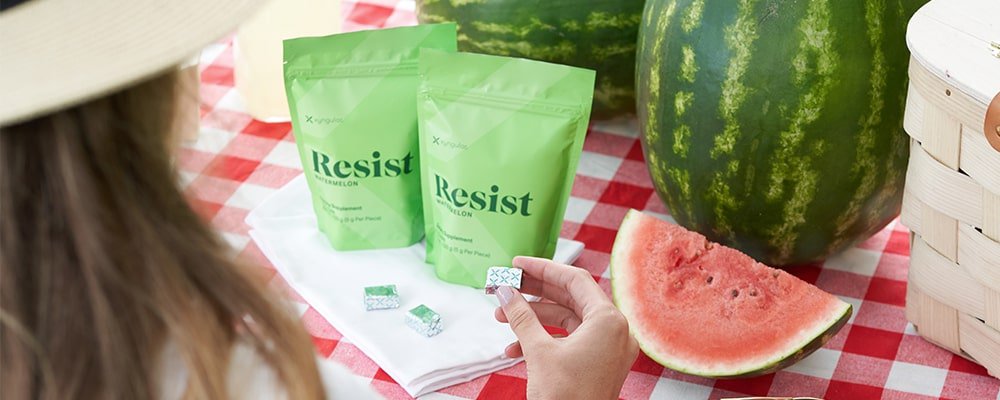 Xyngular Resist Watermelon: New Flavor, Same Resist Power
Sweeten up your summer with a slice of our juicy, appetite-crushing new twist on a super effective, fan-favorite Xyngular product!*
Xyngular Resist Watermelon is the exclusive summer crush you won't want to resist!
Reach out to a Xyngular Distributor, log into your account or give us a call at 801-610-4580 now to snag this summer exclusive flavor while it lasts!"
*These statements have not been evaluated by the Food and Drug Administration. These products are not intended to diagnose, treat, cure, or prevent any disease.
"Individuals can lose 1 to 2 pounds a week using Xyngular products and following a low-carb meal plan."