Where will you be in 30 days?
No one wants to stay stagnant or, even worse, move backward, but we often lack the know-how, motivation, or tools to really change. If your weight loss goals always seem just beyond your grasp, it's time to turn things up a notch with Xyngular's X Plus.
The X Plus kit offers weight loss products and guidance that will help you reach your goals. You'll start to see results within days and, over time, you'll look back and realize you've become the healthier version of yourself you always dreamed of because you've harnessed your body's natural abilities. You'll regain good health, improve digestion, burn fat, and get back the energy you've been missing.*
Products That Make A Difference
Xyngular's X Plus kit delivers access to some of the best products and tools Xyngular has to offer, and they're all focused on helping you become more. All of the X Plus products work together to fire up your health, fast. Here are the weight loss products you receive in the X Plus kit:
Accelerate with Thermolit Blend™: This supplement provides a rapid metabolism boost that controls your appetite and resets your fat-burning potential. It contains our patented Thermolit Blend™, which burns fat by boosting your metabolism, suppressing appetite, and supporting blood sugar levels in already healthy individuals.*
Trimstix™: Trimstix is Xyngular customers' favorite way to drink up and slim down. Its exclusive formula provides increased energy and cognitive function while crushing sugar cravings and balancing blood sugar—all leading with just 10 deliciously flavored calories.*
Lean™: You'll love this protein shake in chocolate or vanilla, and your body will love its nutrient-rich formula full of amino acids, vitamins, minerals, and digestive enzymes. With two different types of usable protein, Lean fights hunger builds muscle, and helps your muscles recover quickly.*
Xyng™: This blend of natural vitamins and herbs will boost your energy and can even improve your mood and help control your appetite. You'll find yourself with more focus and clarity to tackle daily challenges.*
Resist™: Resist is Xyngular's chewy little "treat with a purpose," perfect for popping right before a meal or anytime cravings hit. Thanks to its HbG complex, you feel full fast and can easily say no to excess snacking or overeating at mealtime.*
Flush™: Putting healthy ingredients in your body does no good if your system isn't absorbing them. That's where Flush comes in. It combats the buildup of toxins and reinforces your body's natural defenses by resetting the digestive tract and promoting intestinal health.*
Xyngular Complete Collagen™: Complete Collagen's multi-sourced formula was created to improve digestion, build lean muscle, and support healthy joints. Just scoop, shake, and enjoy a creamy Piña Colada drink to better health.*
Complete Probiotic™: A probiotic that does MORE—more to help you lose weight, feel better, and live better every single day. With 20 billion CFUs and 11 unique strains of gut-healthy bacteria, Xyngular Complete Probiotic is an essential part of your everyday health.
The X Plus kit products work together to give your body some of the most effective weight loss ingredients, plus essential vitamins, minerals, and more for better digestion and overall health and vitality.*
But the X Plus kit isn't just about the products—you'll also be getting meal plans and support tools that will make all the difference in your healthy lifestyle.
8 Days To Jumpstart Your Success
The X Plus kit begins with the 8-Day Jumpstart. This program is designed to fire up your metabolism and your health to prepare it for ultimate weight loss and vitality. It works by gently cleansing your body of harmful toxins, resetting your metabolism, and remedying issues with your digestive system. It lays the right foundation for weight loss. Taking the time to prepare your body for the next steps essentially provides a blank slate so other X Plus weight loss products can have the most impact. X Plus isn't just another quick diet fix. With the X Plus kit, you'll start learning how to live a healthier lifestyle for the duration of your 30 days and beyond.*
Meals To Make The Difference
One of the things that have made the X Plus kit so successful is the delicious meal plans it includes. Because everybody is different, a one-size-fits-all approach to dieting doesn't cut it. We have an expert-designed, low-carb meal plan, as well as a cutting-edge keto plan. You pick the best one for your individual needs. What's more, there are dozens of delicious recipes that come with each meal plan so you and your family won't get bored. You'll stay on track with the right kinds of foods, and they taste so good, you might even forget they're good for you, too!
The low-carb plan helps you manage your excess carbohydrate consumption. These extra carbs turn into excess sugar in your body, which is then stored as body fat. By reducing your overall carbohydrate intake, your body begins to use stored fat as fuel, which ultimately helps you slim down.
The keto plan is more than a fad diet. Keto is short for "ketosis," which is a process your body enters to use fat, rather than glucose or sugar, as its primary energy source. The keto meal plan that accompanies the X Plus kit helps your body start to use its extra stored fat as ultra-efficient fuel, helping you drop pounds and inches.
Xyngular Community—Your X Plus Kit's Secret Weapon
Accountability is so important to achieving lasting results, and our Xyngular community delivers. It's just one more reason why the X Plus kit is one of Xyngular's absolute best value deals.
Ask questions, get super helpful X Plus tips and feedback, find a cheerleader, and even provide your own insight in our Facebook group to get the most out of your X Plus weight loss experience.
X Plus Versus X Advanced
With so many weight loss products out there to choose from, how do you know which wellness kit is right for you? We've put two of Xyngular's most popular kits side-by-side to help you choose the best fit.
Xyngular X Plus is the perfect way to jump-start your weight loss. This kit will give you noticeable weight loss in just 30 days. In addition to the supplements to support your body, it also includes an 8-Day Jumpstart, meal plans to accelerate weight loss, and our incredible Xyngular community to help encourage and guide you along the way.*
Xyngular X Advanced™ is Xyngular's most effective kit to lose the most weight while addressing ALL 15 of the common causes of weight loss failure. It includes all of Xyngular's best products. With X Advanced, you receive everything included with X Plus—the 8-Day Jumpstart program, supplements, meal plans. The added bonus is you also receive a bigger product credit toward your next purchase and additional supplements to make sure each of your weight loss needs is being met while increasing overall wellbeing.*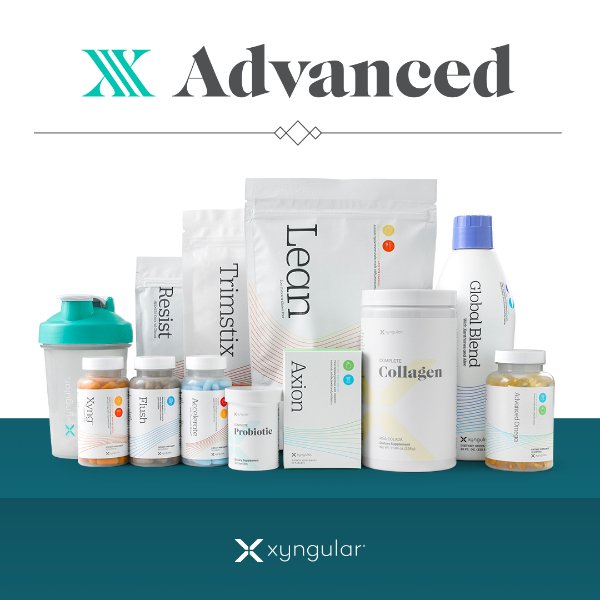 Find Success With Xyngular's X Plus
X Plus is an even greater value than Xyngular's X Bundle and sits just below the X Advanced kit in the Xyngular weight loss program lineup. It's a great balance of effective products, at an even greater value.
You deserve to live the life you want. You are worth the investment in your health. We know change can be intimidating at first, but it doesn't have to be hard, and you don't have to go through it alone.
Make the change, and start with your own X Plus kit today. Contact your Xyngular Distributor or log in to your Xyngular account and get X Plus today!
Where will you be in 30 days?
*These statements have not been evaluated by the Food and Drug Administration. This product is not intended to diagnose, treat, cure, or prevent any disease.
** Xyngular kits include a variation of the 8-Day Jumpstart. If you have additional weight to lose after your Jumpstart and select a Xyngular kit to support your efforts, DO NOT complete another 8-Day Jumpstart immediately. Instead, move to the post-Jumpstart meal plan of your choice and recommended product usage included in your kit.
MORE ON WEIGHT LOSS FROM XYNGULAR...
Why Xyngular Is Passionate About Weight Loss
The Xyngular Guide To Weight Loss