When you're building healthy habits coffee can create some confusion. We're answering all of your burning coffee questions about how to enjoy coffee on the 8-Day Jumpstart and after you have completed the program. We're brewing up a list of keto and low carb options for all of your java needs. *wink*
Coffee on the 8-Day Jumpstart
Wondering what your coffee habit will look like on the 8-Day Jumpstart? Coffee itself is not the enemy of the 8-Day Jumpstart. It's the sugar that often lurks within our favorite lattes, frappuccinos, and coffee-based drinks that makes our beloved "cup of coffee" nutritionally resemble a milkshake. Hey, we get it. Coffee in all of its delicious iterations is a big, delicious part of our morning. Unfortunately, our cup of coffee can often be the epitome of "empty calories" and "hidden sugar" with the average drive-thru latte delivering several dozen grams of sugar per serving. Rest assured, we are not interested in removing your beloved java from your daily routine. Just the sugar and the dairy.
Is Coffee Allowed on Xyngular's 8-Day Jumpstart?
Yes! You can have coffee on the 8-Day Jumpstart, but be aware that for the best experience and results, you need to learn to love a cup of black coffee or stick with compliant add-ins like unsweetened almond milk, unsweetened cashew milk, and unsweetened coconut milk. You can even add cinnamon and nutmeg to spice things up. The clearest direction we can offer is that your coffee on the 8-Day Jumpstart needs to be both sugar- and dairy-free.
Another option is to add cold coffee to your morning Lean Shake. Mix your Chocolate Lean shake with a cup of cold coffee, ¾ cup of unsweetened, non-dairy milk (such as almond, cashew, or coconut) and blend with ice. Drink it immediately for the best consistency.
One way to spoil yourself during the 8-Day Jumpstart where your coffee is concerned would be to invest in high-quality coffee beans and consider grinding your own or buying them freshly ground. Sugary creamers hide a lot of cheap coffee shortcomings such as a burnt, bitter-tasting brew, but deliciously roasted beans will reveal what your coffee could be—so rich and smooth it doesn't need anything else.
People often ask if you can drink decaf coffee while detoxing and while we don't consider the 8-Day Jumpstart to be a detox, we do consider it to be a good break from the habits and foods that aren't serving our health and wellness goals. So, if for you caffeine and coffee represent a bad habit, this might also be a good time to take a break. But you do you.
Can I Have Caffeine On The 8 Day Jumpstart?
Yes, you can have caffeine on the 8-Day Jumpstart, but many of the delicious add-ins to your favorite cup of coffee (or caffeinated soda) aren't compliant with the program. If you're looking for something delicious to drink on the 8-Day Jumpstart, we know you're going to love the Trimstix that's included with the program. Trimstix tastes delicious, helps curb sugar cravings, and includes a kick of energy from naturally sourced green coffee extract and green tea leaf.
Coffee On Keto
Some might say that coffee on keto is what dreams are made of, especially if you love your coffee extra creamy. Since plain black coffee is low in both carbs and calories, it fits well into the ketogenic diet. You've probably even heard of "bulletproof coffee" which is the blend of coffee with grass-fed butter and MCT oil, all of which are keto compliant. Keto coffee is a great addition to your ketogenic diet because the high-fat content can make you feel satisfied and the MCT converts to ketones which helps you stay in ketosis and provides energy.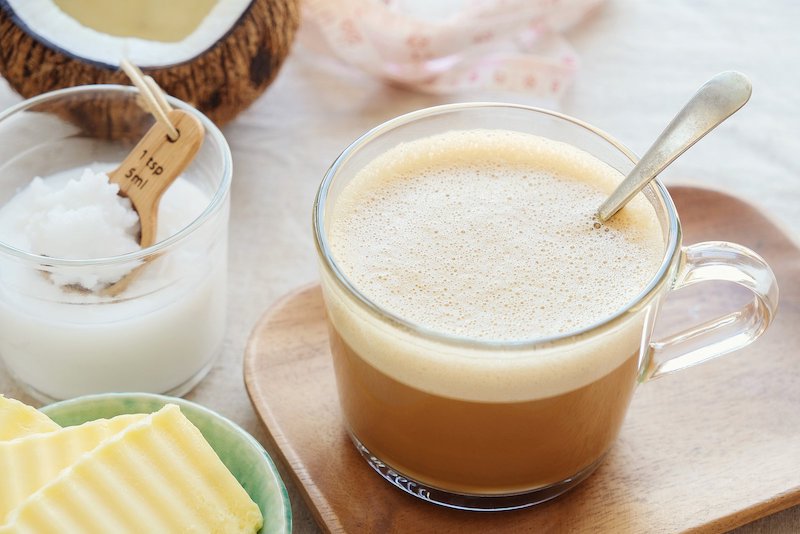 These keto coffee concoctions are a welcome part of your post 8-Day Jumpstart keto meal plan, but we'd recommend avoiding them during the 8-Day Jumpstart because of the high-fat content in the keto-approved creams and fats.
Can I Have Coffee On Keto?
Yes! The internet is packed with assorted keto-friendly coffee recipes, but it comes down to a few fundamental rules:
No sugar.
No diary milk.
You have to eliminate milk because it contains lactose, which is sugar. See! Sneaky sugar is hiding everywhere.
What Can I Put In Coffee on Keto?
So here's a good list of additions for your keto coffee:
Heavy Cream: stick to 2 Tablespoons and one cup per day.
Full Fat Coconut Milk: a milk frother is your friend for this one.
Keto Approved Coffee Creamer: there are many, but they can be expensive.
Yes, there are some keto compliant sweeteners, but be mindful and check those nutritional labels. Stick with monk fruit, stevia, or erythritol, and use them sparingly.
LEARN MORE: The Xyngular Guide to Weight Loss
Coffee On Low Carb
Since plain black coffee is naturally low carb, low calorie, and contains zero sugar, you are all set! Especially if you take your coffee black. See our note above about investing in great coffee beans for a smooth cup of java. The rules are similar to keto:
No Sugar
Only High Fat Dairy
Breaking the sugary creamer habit can be a nice bonus to your health if you can do it. Kicking off your day with a high carb, extra sweet drink is not the way to set your blood sugar up for success. But you don't have to go all-in on black coffee.
Can You Drink Coffee On A Low Carb Diet?
Yes. A million times yes. And you can even find low-carb creamers that will give you a new spin on your morning routine. Look for keto or low-carb friendly creamers, but be mindful of added sweeteners, sticking with stevia, erythritol, and monk fruit. You can also add unsweetened cashew milk, almond milk, and coconut milk to your coffee.
No need to sacrifice your warm cup of coffee when you're making healthier choices! With some modifications, you can make room for coffee on the 8-Day Jumpstart and beyond!

Boost Your Energy With These Coffee Alternatives
The great thing about the 8-Day Jumpstart is that it includes several Xyngular products that help you feel energized when you are making changes to your eating habits. We've all been there—reaching for our cup of coffee in the morning to get going, or for that sugary snack in the afternoon to get us through the afternoon. Those are the habits that are hard to break when it means sacrificing your productivity and energy. This is why we've included two energy boosts in your daily 8-Day Jumpstart—Xyng and Trimstix.
Xyng provides natural energy to help you fight fatigue, stabilize your mood, and find that little extra boost during the day. What this means is you get the extra level of support the next time you reach for that unhealthy snack or sugary drink which oftentimes actually sabotages your energy, as well as weight-loss goals. Xyng contains a proprietary blend of 5-HTP, Cayenne Pepper, and Caffeine that creates natural energy, improvement in mood, and appetite control.*
Trimstix contains a variety of healthy ingredients including caffeine anhydrous. One Trimstix contains 50mg of caffeine—roughly the same as a four-ounce cup of coffee. For reference, an eight-ounce cup of coffee has 95 milligrams of caffeine, and a 12 ounce can of soda contains 34 milligrams of caffeine. And Trimstix does it with the added bonus of curbing your sugar cravings, tasting great, and weighing in at a mere 10 calories per pack!
For more on the 8-Day Jumpstart—the incredible Xyngular weight loss solution aimed at helping you lose up to 15 pounds in just 8 days*—contact your Xyngular Distributor or login to your Xyngular account to get it today!
*These statements have not been evaluated by the Food and Drug Administration. These products are not intended to diagnose, treat, cure, or prevent any disease.
*Lose up to 15 pounds in 8 days. Lose an additional 1-2 pounds or more each week following the 8-day jump start. Results are not guaranteed and can vary.