There are no two ways about it—the world is a different place than it was just a few months ago. But we're not about to let that slow us down! And we know you aren't either. In fact, we're gearing up to RUN toward our goals.
We believe now is as good a time as any—if not better—to make serious strides in the business and relationships you're building. Distributing the Xyngular products you sincerely believe in takes authenticity, trust, and connection…which are what EVERYONE needs during these uncertain times!
It won't come without a few adjustments, hard work, and persistence—but you're equipped for the task. And if you need a boost or a little advice, take it from these Xyngular Distributors.
"I have been furloughed so my $3,500 income has stopped!...But I have had Xyngular to help me help more people and focus on building our business! And I have loved spending more time with my family!"* -Xyngular Distributor
"Be consistent. Do the fundamentals every day. Follow up. Communicate. Join trainings. Take notes. Put tips into action." -Xyngular Distributor
ADVICE FROM XYNGULAR DISTRIBUTORS
Need a few specifics on how to get things rolling or how to stay organized as new promotional offers roll out? Read on for a few of our favorite tried and true tips.
Create a routine/schedule that works for you and stick to it!
Before you run, you need a plan and you need to embrace HABITS that you'll use daily to help you hit the ground running.
"Be consistent with your daily tasks. Post to your personal social media page and into testimony page every day. Communicate and be authentic on social media. Follow up and be genuine. Know your story and why you are doing this. Write it down. Practice it. Always be ready to give a reason for your beliefs (and why you are doing Xyngular)." -Xyngular Distributor
While everyone's routine may look a little different, a few things have to be part of the equation: consistency and authenticity will create a foundation for success!
"It's better to train for 4-5 hours a week than to do ten hours one week then nothing for two weeks. It helps your body adapt and maintains your fitness." -Alistair Brownlee, on the importance of consistency in running training.
This is just the same for your business.
Follow up with care, not force.
"Do the simple steps each day and follow up! You will have people that you have followed up with 7-8 times finally jump on! Don't take it personally if some people are just not ready yet! Treat your potential customers as friends! This goes a long way!" -Xyngular Distributor
We need each other right now. And knowing someone is looking out for our well-being will speak louder than any sales pitch you could possibly come up with.
No runner starts at a dead sprint. You have to warm up and stretch a little. Your friends and customers are no different, they need to be given the chance to warm up to the opportunities you're sharing.
Believe in the product and believe in YOURSELF.
"Get out of your own head. That is more than likely what is holding you back. People need what we have to offer (now more than ever)!! Share away and things will happen." -Xyngular Distributor
You've already laced up, but it's time to trust yourself and enjoy the run. You've got this! Armed with that belief, some solid product info (the Back Office is packed with product info), and the incredible promotions you can offer—you're ready for miles of success.
Curtis Call (Xyngular CSO) put it well when he said:
"This moment is a historical challenge, and I like to look at it that way. I believe Xyngular is full of people who will rise to the challenge and this occasion. They will see this as an opportunity for personal growth and development, an opportunity to lead and give hope to people in the communities where you live. They will see this as an opportunity to be a source of great things in the days ahead. An opportunity where we don't cower to fear and uncertainty, but instead leverage this moment into something great."
Read more advice on how to Adapt and Don't Quit from Curtis Call here.
The most important muscle to develop for your run? Your BELIEF muscle!
"According to legend, experts said for years that the human body was simply not capable of a 4-minute mile. It wasn't just dangerous; it was impossible. On May 6, 1954, Roger Bannister broke the 4-minute barrier, running the distance in 3:59.4. As part of his training, he relentlessly visualized the achievement in order to create a sense of certainty in his mind and body.
Barely a year after Bannister's accomplishment, someone else ran a mile in under 4 minutes. Then some more runners did. Now, it's almost routine. Even strong high-schoolers today run 4-minute miles." Source.
The moral of the story? BELIEVE YOU CAN DO IT!
XYNGULAR PRODUCT HIGHLIGHTS
Not only do these products work, but they're literally life-altering in the best possible ways. Xyngular offers a number of products made to help you lose weight and improve your overall health. Here are a few of ours and our customers' favorite products.
Resist
Here's something to consider: Cravings and hunger can easily sabotage your health goals. Resist is a soft chew that suppresses hunger to help you manage cravings and prevent overeating.* These chews offer immediate appetite control to keep you on track and to help you achieve your weight-loss goals. Resist amps up your ability to resist food temptations. These are a tasty "treat with a purpose" and without the guilty feelings afterward. Resist is what you need for a little extra willpower over "just one more bite".
"RESIST IS NO JOKE, PEEPS! Definitely a game-changer in my jumpstart this month! I have a bowl at home and one on my desk at work! My weakness has ALWAYS been the craving of sweets and pop mid-afternoon and in the evenings, but not anymore! Just a couple of these yummy chews and it's smooth sailing! LOVE IT!" - Heather M., Facebook Community
X Advanced
X Advanced is our most effective kit to lose weight. It targets the areas that usually lead to weight loss failure: poor nutrition, poor sleep habits, unhealthy habits, ineffective meal planning, stress, and many more. X Advanced includes resource guides, recipes, an 8-day Jumpstart, and over a dozen Xyngular products. Discover everything included in the X Advanced kit here!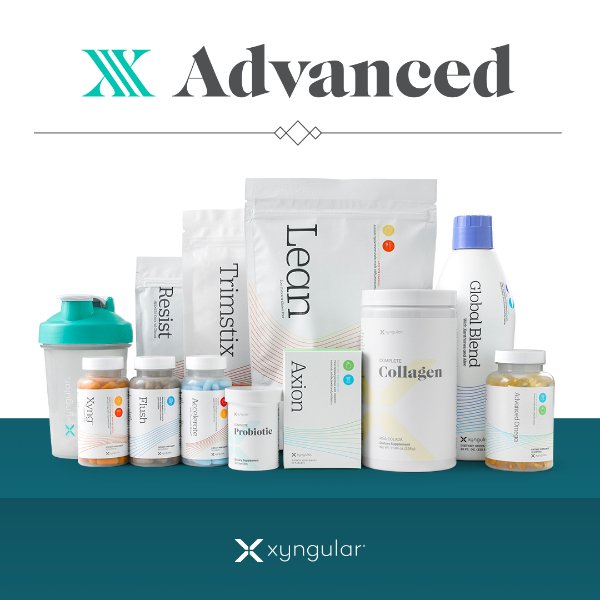 X Plus
X Plus is all about shifting habits, burning fat, and boosting energy. Within 30 days, you'll feel and see noticeable results. X Plus includes products around nutritional support, fat burning and healthy digestion products, guides, recipes, and low-carb and keto meal plans. There's a lot of support with this kit and education to help create healthy habits and maintain those habits, so you create the lifestyle you want to live. To learn more, check out the X Plus Kit here.
X Bundle
At the heart of the X Bundle kit is tackling one of the hardest weight loss obstacles we face: controlling hunger. This is an introductory kit that leverages six of Xyngular's highest quality products to help you gain confidence and hit your weight loss goals. Through meal plans, high-quality products, daily tips and reminders, the X Bundle kit tackles all those weight loss issues many of us face.
8 Day Jumpstart
8-Day Jumpstart is the perfect reset your body needs to start your healthy living journey. This kit is designed to give you results that boost your confidence and help point you in the right direction. A targeted meal plan, 6 of our best products, and unrivaled support, 8 Day Jumpstart gives you the kickstart you need to start implementing healthy habits that will change your life.
Wherever you're at on your Xyngular journey, we're here for you. We're excited about where you're headed! And, trust us, it'll be amazing places. Just get ready. Get set. And RUN.
Contact your Xyngular Distributor or login to your Xyngular account to get going today!*
*These statements have not been evaluated by the Food and Drug Administration. These products are not intended to diagnose, treat, cure, or prevent any disease.
*Lose up to 15 pounds in 8 days. Lose an additional 1-2 pounds or more each week following the 8-day jump start. Results are not guaranteed and can vary.
** Xyngular kits include a variation of the 8-Day Jumpstart. If you have additional weight to lose after your Jumpstart and select a Xyngular kit to support your efforts, DO NOT complete another 8-Day Jumpstart immediately. Instead, move to the post-Jumpstart portion of your Nutrition Guide and recommended product usage included in your kit.
Go to xyngular.com/xis to view the Xyngular Income Summary.