Xyngular Accelerate is a fat burner like no other. Using our patented Thermolit Blend™ of naturally sourced ingredients, Accelerate has the power to burn fat faster than other thermogenics while aiding in healthy digestion, leveling out blood sugar, and suppressing hunger—all without the use of stimulants.*
But what are the powerful ingredients in Accelerate and what role does each of them play in what we know is one of the best fat-burning, metabolism-boosting, thermogenics available to you?
Let's get to know Xyngular Accelerate a bit better, shall we?
Xyngular Accelerate Key Ingredients And Their Benefits
Getting to know Xyngular Accelerate with Thermolit means getting to know what it's made of. Taking a good look at each ingredient and understanding what they're doing in your supplement will help you realize Accelerate's effectiveness and ease your mind about the safe way our proven fat burner can help you reach your weight loss goals.
Lady's Mantle: An impressive hunger-controlling herb that triggers the body to produce heat, burning excess fat.*
Olive Leaf: Speeds up the breakdown of excess fat and maintains healthy blood sugar levels, both of which are key to quick weight loss.*
Cumin Seed: Improves digestion, allowing you to get more of the nutrients you need to maintain better overall health.*
Wild Mint Leaf: Works hand in hand with Cumin Seed to increase digestion efficiency and increase fat reduction.*
PurePropol™ Glucomannan: Absorbs fat and carbohydrates, blocking them from getting digested, which accelerates your ability to lose weight and keep it off.*
These 5 naturally-sourced ingredients are what make up Xyngular Accelerate's Thermolit Blend™. The specialty blend effectively burns fat, controls appetite, and accelerates weight loss better than other thermogenics on the market. It can burn fat three times faster than the competition!*
And with those kinds of results, of course, you'll want to know what makes Xyngular Accelerate different from other fat burners, thermogenics, and metabolism boosters out there.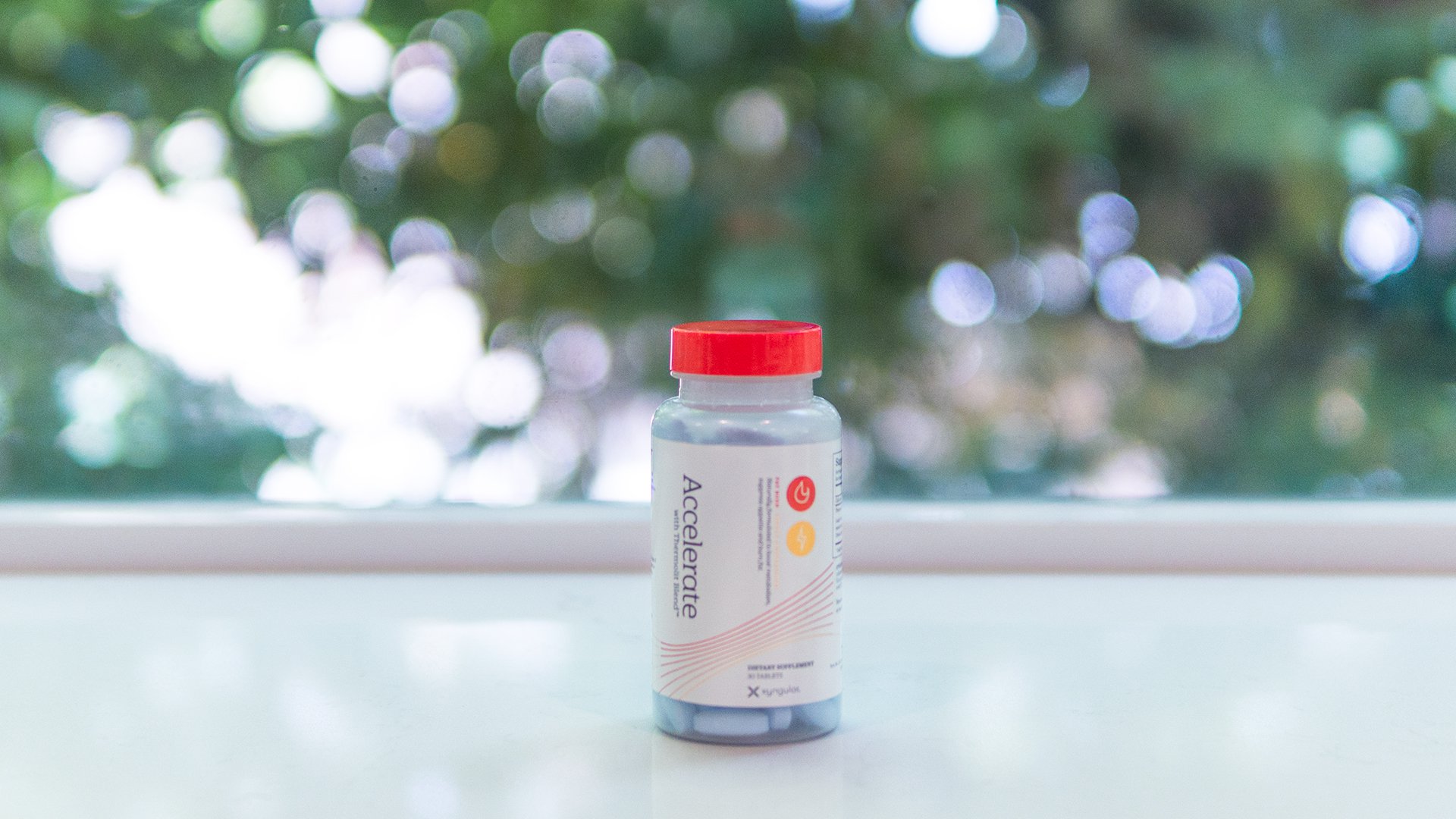 What Makes Accelerate Different?
One thing you'll immediately notice is that the most common thermogenic, or fat burner, ingredient—caffeine—is missing from Xyngular Accelerate's ingredient list. While we believe that caffeine has its place in a wellness program, our patented fat burner has no need for it.
Historically speaking, high-caffeine fat-burning products have had a hyper-focus on increasing thermogenesis—the body's ability to create heat and burn calories—but ignore both the side effects of so much caffeine in your system (like heart palpitations, jitters, high blood pressure, and headaches) and the rest of the formula when it comes to shedding excess fat.
Xyngular takes a more holistic health approach in the creation of our best fat burner with the inclusion of lady's mantle to control hunger from the start, mint leaf and cumin seed to increase digestive efficiency, olive leaf to break down fat cells and maintain healthy blood sugar levels, and glucomannan to absorb excess fat and carbs to keep them from entering your system and needing to be burned at all.*
The fact that with Xyngular Accelerate you get a fat burner that is soy-, nut-, gluten-, and dairy-free is just a bonus that makes it available to almost anyone.
"I had tried most everything, even to an unhealthy extreme. With the help of Accelerate, I lost 20 pounds in my first 30 days—but I gained a healthier, happier me!" —Kristy M.*
What To Look For In A Caffeine Free Fat Burner
Because Xyngular Accelerate is a caffeine-free fat burner, it uses the other naturally occurring elements in the Thermolit Blend™ to do a more complete job of helping you shed pounds and burn excess fat.*
But there are many other ingredients you're likely to see in a fat burner that mean "caffeine" even if it's not the ingredient the creators are advertising. If you want a caffeine-free fat burner, watch out for ingredients such as mate, guarana, cola, green tea extract, or coffee extract—all of which contain caffeine.
What Does Accelerate With Thermolit Do?
The 5 proprietary ingredients in Xyngular's Thermolit blend work together to naturally promote thermogenesis. But it's not just general calories that Accelerate goes to work on—Thermolit naturally targets fat cells, breaking them down, and even trapping some before they can be absorbed and stored by your body, lowering the need to burn as many calories from the start.*
Just one tablet of Xyngular Accelerate taken daily with lunch provides unparalleled weight-loss support. Its powerful ingredients deliver multiple benefits that are critical to losing weight:
Xyngular Accelerate is designed to rapidly decrease excess fat.*
It suppresses appetite and controls hunger.*
Accelerate allows you to shed inches from the waist, losing weight the healthy way.*
The caffeine-free fat burner increases thermogenesis and without the use of stimulants.*
It helps convert fat into energy.*
What To Look For In A Metabolism Booster
There is a method to the metabolism-boosting madness that is Xyngular Accelerate. First, we use naturally sourced ingredients in our metabolism booster that we know are safe as well as effective. Like, seriously effective. Why use a supplement that relies on old ingredients with harsh side effects when you could take one that does essentially three times the work of others without the negative complications? That's the kind of exhaustive effort Xyngular puts in to ensure you're getting the best products for your overall health and wellness—not just weight loss.*
Because, second, Xyngular is in the business of changing lives—not just the numbers on a scale or tape measure. We want you to feel as good as you're going to look when you use our products. So you know we won't take the easy route or use the same old stuff as other companies. We're here to provide you with the best metabolism booster because we know that's how your life will change for the better, for good.*
If you're ready to accelerate weight loss and increase your fat-burning potential at three times the rate of other metabolism boosters—all on your way to living your very best life—snag yourself some Xyngular Accelerate and start your healthy weight loss journey today!*
*These statements have not been evaluated by the Food and Drug Administration. These products are not intended to diagnose, treat, cure, or prevent any disease.
*Lose up to 15 pounds in 8 days. Lose an additional 1-2 pounds or more each week following the 8-day jump start. Results are not guaranteed and can vary.