Why Choose Xyngular
At Xyngular, we offer award-winning supplements that can change your life, all while easily fitting into your lifestyle. Our products use natural ingredients to help you tackle some of the most common modern health concerns.
If you're tired of being tired and want to make real strides in your weight loss and management goals, we have a combination of products that can help you get the results you desire. The power to change your life is already inside of you, and we can help make it happen.
Our Favorite Weight Loss Supplements:
Accelerate with Thermolit Blend™
Do you frequently find yourself low on energy but high on appetite? This frustrating combination makes it hard to eat right and exercise, even for the best-intentioned weight-loss seekers. If you're looking to "accelerate" your weight-loss plan, then we've got the answer you need.
Accelerate with Thermolit Blend™ uses naturally sourced ingredients to suppress your appetite, control cravings, rev up your metabolism, and help increase and sustain your energy levels. Unlike energy drinks, Accelerate is stimulant-free and relies on naturally sourced ingredients to boost your energy. It uses cayenne to enhance your weight loss plan through thermogenics.*
Cheat
Are you tired of spending every waking moment fantasizing about a cheat day? Associating food with such guilt isn't a healthy approach to eating and wellness. It's better to find a healthy balance. Cheat helps you enjoy the foods you love without all the heavy guilt.
Simply take Cheat with at least 8 ounces of water around 30 minutes before a meal, then enjoy appetite control and potential calorie mitigation.*
Lean
We all get hungry in between meals, but unless you're prepared with snacks that support your overall health goals, they can become the downfall to any weight-loss plan. Lean premium protein shakes provide a simple solution.
While you might typically think of protein shakes as a way to bulk up, Lean was built to help you slim down and build lean muscle. Each serving is only 50 calories and offers 10 grams of protein. It's gluten-free and non-GMO. This delicious drink is packed full of vitamins, minerals, digestive enzymes, and more.*
Resist
Resist helps you to maintain a healthy diet by offering quick appetite control. One tasty "treat with a purpose" and you will feel full faster with just one chew. The chews are individually wrapped for convenience and make it easy to consume fewer calories when you are on the go.*
Trimstix
You don't always have time to make a healthy snack when you're on the go. It might seem easier to grab a soda to satisfy a sweet craving. Trimstix offers a weight-loss-friendly alternative.*
Coming in at a shocking ten calories, Trimstix is a simple solution to afternoon cravings. Just mix it up with 8-12 ounces of cold water and enjoy the benefits. Trimstix can help you control sugar cravings and supports blood sugar levels in already healthy individuals.*
Xyng
There are energy pills, there are fat-burning weight loss supplements, and there are appetite suppressants. Xyng changes the game and combines them all into one.*
Xyng uses naturally sourced ingredients to help you be your best self. After taking Xyng with a small snack, you may experience an improved mood, weight-loss support, greater appetite control, and higher levels of energy.*
8-Day Jumpstart
The Xyngular 8-Day Jumpstart was specifically designed to drive rapid results in only eight days. It comes with a customized meal plan to follow that will also work post-Jumpstart, and is backed by six products and incredible support. This powerful program will help your body have the rapid reset that it needs. Lose up to 15 pounds in eight short days!*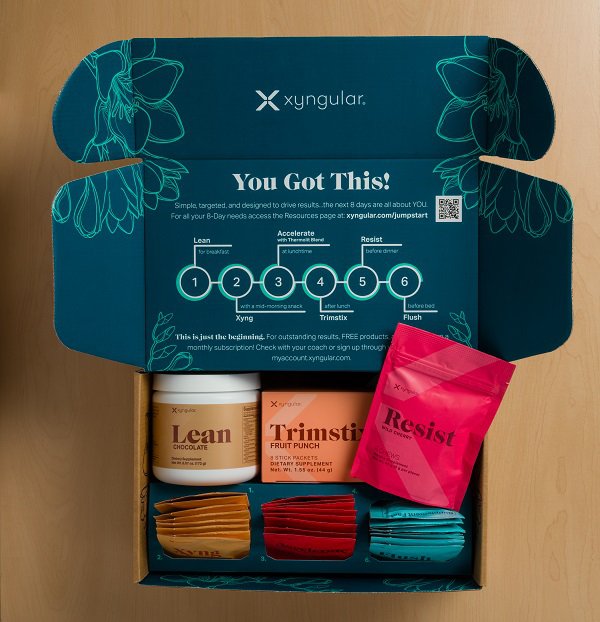 Weight Loss with Xyngular
Xyngular products were specifically designed to support some of today's most important health needs. The products are simple and effective. Regardless of whether you are hoping to gain more energy, maintain overall wellness, or simply slim down, Xyngular has the products to help. Try Xyngular for the first time by taking advantage of bundles and kits. The Xyngular kits offer a 30-Day program to assist you in your weight-loss and wellness goals. The kits come with training support, meal planning, and our top products.*
Take the first step to make meaningful changes in your life. Check out the entire collection of premium Xyngular products, bundles, and kits today.
*Individuals can lose 1 to 2 pounds a week using Xyngular products and following a low-carb meal plan. These statements have not been evaluated by the Food and Drug Administration. This product is not intended to diagnose, treat, cure or prevent any disease.
MORE ON WEIGHT LOSS FROM XYNGULAR...
The Xyngular Guide To Weight Loss
Xyngular's Weight Loss Systems: The Guide To Finding The Right One For You
What Is The Xyngular 8-Day Jumpstart?