Have you ever missed a doctor's appointment, a friend's birthday, or forgotten to grab that one thing at the grocery store? Us too. Forgetfulness seems to be an inescapable part of life, but it doesn't have to ruin your weight loss goals. Xyngular kits, like the X Bundle, have all the products you need to start losing weight; however, they only work if you remember to take them! Our Xyngular Product Schedule was created to help you take your supplements at the right time, removing all the headache of remembering what to take and when. Read on for tips on how to fight forgetfulness!
Why Timing Is Important For Your Xyngular Weight Loss Journey
Supplements are great for your body, but you may not be receiving the optimal amount of support if you aren't taking them during the right time and with the right nutrition.
Depending on the type of supplement, your body may require fat-soluble foods to help with absorption, or if they are water soluble, you may be able to take them without food. Timing can be everything to ensure you are receiving the most benefits from your supplements.
Without doing all the scientific research for each supplement, you may not be aware of when and how to take supplements to acheive optimal weight loss. But don't you worry! Xyngular has already sorted out the weight loss schedule, complete with detailed instructions to ensure you are getting the most out of Xyngular's weight loss kits.
We've thought of everything! Now that you have the Xyngular Product Schedule, you know when and how to take your supplements. You just have to remember to take them! Even the best laid out plan can fall victim to forgetfulness. We got you.
7 Hacks For Fighting Against Forgetfulness
If you find yourself forgetting when to take your supplements, you are not alone. It can be tricky to take on a new weight loss routine as well as stay on top of a supplement schedule. Even with Xyngular's product schedule included with the X Bundle kit, there's still an opportunity for forgetfulness. Here's some simple task management tips to help you stay on top of your supplement schedule. Choose one that will work best for you!
Set An Alarm On Your Phone
Alarms throughout the day are hard to miss and most people have their phones with them 24/7. On most smart phones you can even name your alarms! We love this feature because it keeps things clear and helps keep you on task. Work smarter, not harder.
Attach The Task With Another Habit
If you already have a solid habit that aligns with a task in your weight loss schedule, blend the tasks together. Do you have a morning supplement? Pair it with the task of brushing your teeth or driving a kid to school. Do you have a set lunch break? Pair your supplements with it.
Power Of The Sticky Note
Plaster that fridge, coffee maker, mirror, front door, or steering wheel with sticky note reminders! Sometimes we just forget unless it is right in front of our face! Sticky notes with prime placement are a sure way to keep your reminders at the forefront.
Add It To Your Calendar
If you live and die by your calendar, don't be afraid to schedule times to take your supplements. Most calendar programs allow for you to add an event that is only one to five minutes long so it won't get in the way of your daily calendar appointments. If you're a die-hard paperback calendar user, sit down at the start of each week and pencil in your Xyngular product schedule for the next seven days.
Rewards
Reward yourself with something special if you remember to take your supplements every day for a certain period. A movie you want to see, a new pair of leggings, a celebratory treat here and there. It can be worked in as part of a healthy lifestyle. Deprivation never got anyone anywhere! Moderation is key. Reward yourself for hard work if you need that extra push.
Ask Your Electronic Roommate For Help . . . Hey Alexa!
The benefit of enlisting the help of a virtual assistant like Alexa or Siri is that when you have that passing thought, "Oh yeah! I need to take supplements at dinner," you can voice those requests without stopping what you're doing. If you haven't branched out to using virtual assistants for reminders, now's the time!
Practice! Practice! Practice!
As Dory so eloquently taught us in Finding Nemo, just keep swimming. Don't beat yourself up when you forget. We all do it, and that's okay. Just keep at it, and eventually, your new tasks or schedules will stick.
It may take some trial and error, and not all types of reminders work for everyone. But don't give up! If one of the hacks you tried wasn't successful, try something new. You may be surprised which reminder system ends up working for you.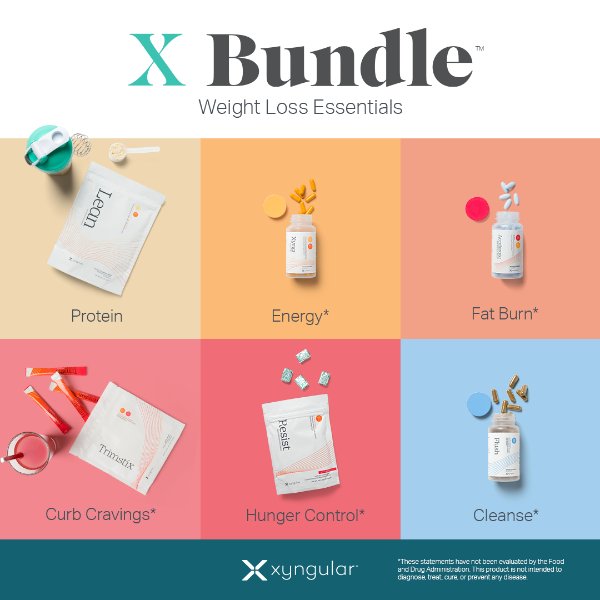 The X Bundle Makes Weight Loss Organization Easy
Xyngular's X Bundle has removed all the guesswork when it comes to supplements, weight loss, and choosing the right schedule. We have an easy-to-follow kit that is uniquely designed to combat weight loss hurdles throughout the day. The X Bundle's six power-packed supplements will work as a team throughout the day to keep your body fed with essential nutrients while also fighting frustrating cravings and low energy levels.
With Xyngular's X Bundle, there's no second-guessing when to take what. The X Bundle kit has your entire day laid out in a helpful product schedule, so you know what supplements to take and when. Our Xyngular Product Schedule makes it easy to implement any of our 7 reminder hacks without any extra work. We know the struggle it can be to remind yourself to take supplements and eat proper meals. Use the Xyngular X Bundle products, specifically the Product Schedule and Nutrition Guide, to give yourself the best possible chance at successful weight loss.
Try the X Bundle today by reaching out to your Xyngular rep! Xyngular and our community can't wait to start cheering you on!
*These statements have not been evaluated by the Food and Drug Administration. These products are not intended to diagnose, treat, cure, or prevent any disease.
More On Weight Loss From Xyngular… (H2)